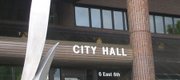 Subscribe to the email edition of Town Talk and we'll deliver you the latest city news and notes every weekday at noon.
News and notes from around town:
• Forget about the age-old question of "Where's the beef?" (Remember the Wendy's commercials from the 1980s? Don't get me started on square hamburgers, though. OK, I'll say one word: Communist.) A Lawrence company is making money off a different question these days: "What's the beef?" Lawrence-based Identigen has made a breakthrough in its process of using DNA to provide specific information about the type of beef that consumers are buying.
The West Lawrence company has been using DNA to trace the origin of steaks and roasts and those types of cuts for a couple of years now. But now the company has discovered how to apply the process to hamburger meat. Identigen has signed a deal with the national food distribution company Performance Food Group to apply DNA tracing to all the ground meat in the company's Braveheart Black Angus Burgers brand.
The Braveheart brand makes a couple of promises to its customers — which are mainly fine restaurants that are paying for high-quality beef. One is that the patties are Angus, and the other is that the beef is being raised in the Midwest. Identigen's system tracks the cattle from start to finish, so it can attest to the authenticity of both those claims. And it uses DNA data to back it up. (You know CSI type of stuff. Looks for "CSI: Cow Pasture," coming to CBS soon.)
Even if you don't care about high-quality Angus beef, you may want to keep an eye on Identigen. Its deal with Performance Food Group marks the first of its kind in the U.S. It expects to sign similar deals with other meat processors in the future.
"We're definitely having discussions with other people," said Michele Wells, a spokeswoman with the company.
Hamburger is a big market, and future deals could lead to employee increases for Identigen, which came to Lawrence in part because the Kansas Bioscience Authority invested in it as a rising-star-type of company. Currently, Identigen has about 40 employees, Wells said.
The company has hopes for another boost as well. Currently, the company's testing program — called DNA TraceBack — mainly is just known by food distribution companies and large buyers. But Wells said a Canadian pork company is in the process of putting the DNA TraceBack label on products that it sells in supermarkets. Wells said Identigen has hopes that eventually its DNA system will become something that shoppers in major grocery chains like Dillons and Hy-Vee will look for.
I have no word of this next one, but here's hoping that they also eventually develop a home testing kit. That way I maybe could have figured out what it was my wife served me on Wednesday.
• It will be a race to 100, but nobody probably is going to be a winner at the end of this deal. With 10 months of building permit totals in the book, only 86 new single-family homes have been started in Lawrence. That's down nearly 35 percent from last year, when 131 single-family permits had been issued through October. Today's numbers also a far cry from the housing boom days when 300 was the norm and it wasn't unheard of to exceed 400 single-family building permits in a year. Nobody expects that anymore, but now there are questions about whether the local housing industry will even hit the 100 mark. That's significant because the city keeps building permit records back to 1956 and never has there been a year when the city hasn't issued more than 100 single-family building permits. The low point came in 2008 when 102 were issued. Builders were hoping that would mark the bottom of the housing recession, but this year is giving it a run for the money. As far as other building stats, here's a quick look:
Apartment construction has definitely filled a void in the construction market. The city has issued permits for 363 apartment units thus far. Oddly, that's the best year since 2008 — when single-family construction also was in the dumps. That year, the city issued permits for 557 apartments.
Even though home numbers are down, there have been several large ticket projects on the books. The city has issued permits for $92.7 million in private construction. (It also has issued permits for $7.9 million worth of publicly funded construction.) The $92 million mark already is better than either 2010 or 2009 when $85 million and $68 million worth of projects were started for the year. The largest project of the year, so far, has been a $28 million permit for the new Hunter's Ridge Apartment Complex near Sixth Street and Stoneridge Drive.
• If the future of big buildings in Downtown Lawrence interests you, mark your calendar for Tuesday evening. City commissioners have agreed to hear whether a six-story hotel and apartment building should be allowed on the southeast corner of Ninth and New Hampshire streets. The city's Historic Resources Commission has rejected the idea, saying it doesn't fit with the city's Downtown Design Guidelines and is not compatible with the adjacent historic district that runs along Rhode Island Street in East Lawrence. Some residents of that neighborhood also have expressed opposition to the building, particularly its height. I recently wrote a whole article about tall buildings in downtown, so I'm not going to rehash all that. But here's guessing that there will be a lively debate at City Hall. The city already has received a significant amount of correspondence in opposition to the project. But others — including the development team led by local businessman Doug Compton — point out that the city has said increasing the density of downtown and the people living in the district is critical to downtown's future. This seems to be shaping up as a decision that will have an impact beyond just this particular project. Commissioners meet at 6:35 p.m. on Tuesday at City Hall, Sixth and Massachusetts streets.
Copyright 2017 The Lawrence Journal-World. All rights reserved. This material may not be published, broadcast, rewritten or redistributed. We strive to uphold our values for every story published.