A cyclist was flown by air ambulance to a Kansas City-area hospital with critical injuries after a vehicle struck him near 11th and Kentucky streets. The vehicle and bicycle collided at about 3:15 p.m.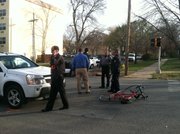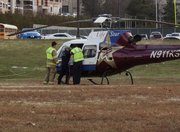 A white Chevrolet sport utility vehicle was traveling west on 11th Street when it struck the cyclist, said Lawrence Police Sgt. Trent McKinley. McKinley said police were not sure in which direction the cyclist was heading.
McKinley could not specifically address the injuries suffered by the cyclist, who was wearing a helmet.
Eleventh Street between Kentucky and Tennessee streets is closed, and will remain so for several hours, McKinley said. Traffic on westbound 11th Street and northbound Kentucky Street is reduced as police investigate the scene.
McKinley said police are looking for eyewitnesses, and urged anyone who saw the accident to call Lawrence police at 832-7509.
Check LJWorld.com for more information as it is available.
Copyright 2018 The Lawrence Journal-World. All rights reserved. This material may not be published, broadcast, rewritten or redistributed. We strive to uphold our values for every story published.