The Veterans Day ceremony at American Legion Dorsey-Liberty Post 14 drew dozens of older veterans, as usual, but fewer young ones.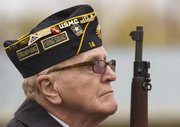 Many of those who attended Sunday said they want that to change.
Guest speakers from Douglas County veterans organizations said they needed to attract more young veterans, many of whom have returned from Iraq and Afghanistan in recent years needing support but not connecting with groups like American Legion Post 14.
Hank Sipple, finance manager for the post, said the American Legion was just one of several veterans organizations in Douglas County where young veterans could get connected with medical services or other help. Others include Veterans of Foreign Wars and Disabled American Veterans, both of which helped organize Sunday's ceremony that included a 21-gun salute by an honor guard from American Legion Post 14 and VFW Alford-Clarke Post 852.
"A whole lot of them don't know what's available," Sipple said. "We've got to get younger veterans involved."
Ed Mount, commander of American Legion Post 14, said organizations like his have lost generations of returning veterans to changing attitudes among both citizens and soldiers in the 20th century. He remembered soldiers returning from World War II were greeted with parades and pageantry.
"There was no talk of an exit strategy then," he said. "All of that is gone. These are political wars."
Guest speaker U.S. Army Major Tim MacDonald, an Iraq War veteran who also served in Bosnia-Herzegovina, brought a message from his father, a Marine Corps veteran.
Veterans, he said, are people who left home to seek out new experiences and dangers, to meet new people across the world. They should not be afraid of the unknown, he said, or of going out and approaching young veterans and bringing them into these organizations.
Felix Zacharias, 30, an Iraq War veteran and vice commander of VFW Post 852, was one of the youngest veterans present Sunday. He said some young veterans badly needed someone to reach out to them.
"If you ever know a veteran who needs help, please guide them," he said.
Copyright 2018 The Lawrence Journal-World. All rights reserved. This material may not be published, broadcast, rewritten or redistributed. We strive to uphold our values for every story published.