Photo Gallery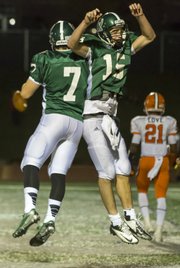 Free State Football vs. Olathe East
Summary
OEHS FSHS
First downs 8 14
Rushes-yards 39-145 42-214
Passing yards 20 76
Total offense 165 290
Return yards 119 40
Fumbles-lost 2-1 3-1
Penalties-yards 3-30 7-55
Score by quarters
OEHS 0 10 7 0 — 17
FSHS 7 14 0 7 — 28
Individual statistics
Rushing
OEHS: Hayden Frazier 24-104 TD, John Blazevic 10-29 TD, Ryan Woodson 3-7, Jalen Branson 2-5.
FSHS: Joe Dineen 15-131 2 TDs, Kyle McFarland 18-75 TD, Cobbs 7-10, Team 2-minus-2.
Passing
OEHS: BLazevic 2-10-20 interception.
FSHS: McFarland 6-14-76 interception.
Receiving
OEHS: Branden Trinkle 1-13, Colby Stone 1-7.
FSHS: Chris Heller 2-32, Keith Loneker 1-22, Zach Bickling 1-9, Khadre Lane 1-8, Blake Winslow 1-5.
HOW THEY SCORED
First quarter
0:53 — Joe Dineen 5 run. Antonio Schnoneich kick. (FSHS 7, OEHS 0.)
Second quarter
9:51 — Hayden Frazier 17 run. Ryan Ahlgren kick. (FSHS 7, OEHS 7.)
3:46 — Ahlgren 32 field goal. (OEHS 10, FSHS 7).
3:28 — Dineen 72 run. Schnoneich kick. (FSHS 14, OEHS 10.)
2:28 — Blake Winslow 26 fumble recovery. (FSHS 21, OEHS 10.)
Third quarter
8:08 — John Blazevic 2 run. Ahlgren kick. (FSHS 21, OEHS 17.)
Fourth quarter
10:29 — Kyle McFarland 1 run. Schnoneich kick. (FSHS 28, OEHS 17.)
Anytime something went wrong for Free State High's football team Friday night in the Class 6A state quarterfinals, the Firebirds found a way to make up for it.
If an FSHS player stymied his own team by running the wrong route, missing a read in the backfield, blowing a blocking assignment — or worse — turning the ball over, another Firebird would emerge just in time to keep visiting Olathe East from gaining control.
After Free State advanced to the state semifinals with a 28-17 victory, junior running back and safety Joe Dineen wasn't complaining about the lack of style points.
"It's awesome, man. It's awesome," Dineen said of the Firebirds' eighth straight win. "It's the best feeling ever. We didn't play very good tonight, but we played good enough to win."
The Hawks (6-5) took a 10-7 lead on a 32-yard Ryan Ahlgren field goal with less than four minutes remaining in the second quarter after junior Branden Trinkle set up a short field with a 40-yard punt return.
But on Free State's first offensive play of the next drive, Dineen ran 72 yards down the left sideline for a touchdown after securing a late pitch on an option from senior quarterback Kyle McFarland. Dineen (15 carries, 131 yards, two touchdowns) said assistant coach Mike Gillman always tells the running backs to stay with the quarterback as long as possible on an option. Dineen followed the instruction exactly and nabbed a chest-pass lateral from McFarland near the line of scrimmage as the defense keyed on the QB.
"There was no one out there, so I just ran," Dineen said. "I mean, it was a great play on Kyle's part."
FSHS (10-1) needed that kind of game-changing play, because O-East had taken momentum when Al Smith intercepted a McFarland pass over the middle early in the second quarter and returned it 38 yards to the Free State 17. On the next play, Hawks senior running back Hayden Frazier ran 17 yards for a touchdown, and O-East tied the game at 7 with 9:51 left until halftime.
Back-to-back holding penalties on Free State's next possession led to a second-and-40 situation and eventually a punt on fourth-and-37, which Trinkle took to the Firebirds' 20, setting up the field goal that gave O-East the lead.
"There's gonna be adversity in games like these," Dineen said. "You've just got to overcome it. Play hard, good things will happen."
FSHS junior Blake Winslow epitomized that concept on O-East's first possession following Dineen's long TD run. On third-and-six, Hawks senior quarterback John Blazevic ran smack into Winslow's stomach after senior linebacker Tye Hughes forced the QB to cut that direction on a rush. Winslow got one hand on the ball and the other around Blazevic to rip the ball out. While most everyone else on the field thought the QB had a knee down before the ball popped loose, Winslow kept playing when the pigskin bounced off the turf and up into his hands.
"I was just off to the races," he said.
None of the Hawks near Winslow went after him as he ran 26 yards to the end zone. Though the officials seemed reluctant to call it a TD, after gathering to discuss the play they ruled it a fumble, and Free State took a 21-10 lead on an Antonio Schnoneich extra point with 2:28 left in the second quarter.
"Even when we get down," Winslow said, "we're a good team, and we can overcome it as long as we all stick together, keep doing what we're coached to do."
The Firebirds had another self-inflicted wound in the third quarter, when McFarland tossed an option pitch to senior running back TJ Cobbs and the ball ended up on the turf, where it was recovered by Hawks junior Connor Alexander. Two plays later, Blazevic scored a touchdown on a two-yard run, giving the visitors 14 points off turnovers and cutting Free State's lead to 21-17.
When the ensuing FSHS possession stalled out with a turnover on downs, O-East needed to go 65 yards to take the lead. Instead, FSHS senior cornerback Demarko Bobo picked off a Blazevic pass with 1:45 left in the third.
Trying to extend a slim lead, Free State ran the ball eight straight times on its next drive. McFarland picked up 29 yards, Dineen rushed for five more and the Firebirds increased their advantage to 28-17 with 10:29 to play on a one-yard rushing score by their quarterback.
Coach Bob Lisher, though disappointed in the miscues, didn't mind what he considered an ugly win.
"It was just kind of a blasé night where we were fortunate enough to come out on top," Lisher said. "Give our guys credit. They did continue to work, and they got the victory."
Now the Firebirds are one win away from reaching the state championship game. At 7 p.m. Friday, they will face Shawnee Mission West (10-1) at Shawnee Mission South District Stadium.
"It feels good," Lisher said of getting one step closer to the title game. "There's only gonna be one team happy at the end of the season anyway, but we're still happy. Hopefully we can continue to work to stay happy. That would be the greatest thing in the world for these guys and this program to get to that point. But Shawnee Mission West is gonna give us everything we want."
Copyright 2018 The Lawrence Journal-World. All rights reserved. This material may not be published, broadcast, rewritten or redistributed. We strive to uphold our values for every story published.