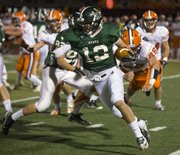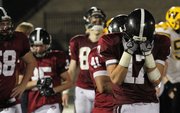 Free State High's football team advanced to the state semifinals with a 28-17 victory over Olathe East on Friday night at FSHS.
The Firebirds (10-1) will face Shawnee Mission West (10-1), which defeated Lawrence High, 21-14, at LHS. The Class 6A semifinal will be held Friday at Shawnee Mission South District Stadium.
Free State scored first against Olathe East, late in the first quarter, and led the entire way. The Firebirds went into halftime up 21-10, thanks to a rush-heavy attack led by Joe Dineen, who ran for 118 yards and two touchdowns in the first half. The Hawks opened the third quarter by recovering an FSHS fumble and scoring to close the gap to 21-17. Free State extended its lead with a Kyle McFarland rushing touchdown early in the fourth quarter.
Across town, Lawrence High led, 6-0, at halftime, but Shawnee Mission West scored 21 straight points after the intermission. Lions quarterback Brad Strauss connected with Drake Hofer for a 55-yard touchdown with 4:25 left in the fourth quarter, but the Vikings held on and advanced to a rematch with Free State, which defeated SM West, 28-14, on Sept. 7.
Copyright 2018 The Lawrence Journal-World. All rights reserved. This material may not be published, broadcast, rewritten or redistributed. We strive to uphold our values for every story published.