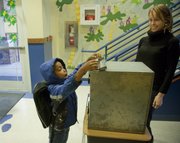 More than 3,000 elementary through high school students in Douglas County cast ballots in the Kids Voting project Tuesday, producing results that were similar in many cases to those of their parents.
According to tallies from the Kids Voting Douglas County project, President Barack Obama, a Democrat, carried the local youth vote by a margin of 2,309 to 839 over Republican Mitt Romney, or 66 percent to 24 percent.
Adults in Douglas County also gave Obama the lead, about 60 percent to 37 percent.
Kids Voting is a nationwide project aimed at getting young people involved in the voting process at an early age in hopes of making them lifelong voters and increasing participation in other areas of civic life.
In other races, Douglas County youths voted for Democrat Tobias Schlingensiepen, 50 percent to 46 percent, over Republican incumbent Lynn Jenkins in the 2nd District congressional race.
Among adult voters, Schlingensiepen carried Douglas County with 56 percent of the vote, compared with 40 percent for Jenkins.
Statewide, about 48,000 students in Kansas participated in the process.
"Many students in Kansas participated in 'learn by doing' Kids Voting activities in the classroom to prepare for Election Day," said Emily Bradbury, executive director of Kids Voting Kansas. "Election Day becomes a true celebration as our youth have the opportunity to see for themselves how the process works and how they can make a difference by participating."
Copyright 2018 The Lawrence Journal-World. All rights reserved. This material may not be published, broadcast, rewritten or redistributed. We strive to uphold our values for every story published.