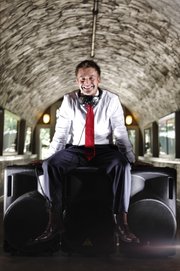 It was his freshman year at Kansas University, and Nick Reddell needed a job.
He started working bars: cleaning toilets, sweeping floors, doing the grunt work no one wanted.
Then a local disc jockey who was making his exit spotted Reddell and pegged him for what he was: a smooth talker who could make friends with strangers. The sort of guy who could draw a crowd on a Friday night.
The DJ offered to let Reddell rent his equipment, to see if he could fill the hole he was leaving behind.
Reddell bounded forward headlong. His first gig was a 700-person party. He wasn't trained. They put him on stage and said, "Go."
"I had a pretty good knack for playing what people wanted to hear and when they wanted to hear it," said Reddell. "You walked out of there thinking, 'I had a really good time and I danced a lot.'"
Reddell's DJ career launched before Facebook had permeated everyday social life. To pull people to his events, Reddell would call everyone he knew and coax them into coming.
Reddell thought he ought to make a go at DJ-ing seriously. He recruited his friends for help.
"If you hired me as a DJ, I had a group of friends that you hired as bartenders and door guys," said Reddell. "We rolled as a group and worked … at different places and tried to make them a popular stop for the night."
At first they worked places like Fatso's and Jerseys (where Brothers is now). Later, they worked Abe and Jakes, where Reddell now has an office. The first time Reddell worked the venue, 1,500 people coursed through the doors.
After Reddell graduated KU with a communications degree, he decided to stick around. He'd developed a following. And he wanted to keep it but transition away from DJ-ing to focus on organizing the business.
Gradually, Reddell removed himself from the college scene. But he still keeps his company embedded at popular bars by hiring college-age kids. One such hire is Josh Savitt (DJ Savy), a 21-year old KU graduate student. Savitt became interested in DJ-ing as a sophomore in high school, when he got his first set of old-school hip-hop turntables.
Savitt and his friends DJ'ed basement parties in early college, then started promoting themselves at public venues.
"DJ-ing is a lot more than just playing music," said Savitt. "You have to promote yourself to get into the venue — or why would a bar want to hire you if you're not going to bring any more heads in the door?"
Networking is paramount. And networking is what Andrew Rabin (DJ Ray Ban) is good at.
Rabin approached Savitt about collaborating on a party last September. They rented the Bottleneck and promoted the event like mad. Five hundred people came.
"It was really rocking," said Rabin. "They said it was the most tickets they'd sold in one night."
DJ-ing is mainly fun, said Rabin and Savitt, but the crowd can get grating. If someone has a song in mind, he will ask for it a thousand times. Rabin wears a shirt that says "These DJs don't take requests" in response.
Requests are annoying, he says, because DJs plan their sets. They've often got four or five songs in queue. And those songs might have a certain number of beats per minute to create the right flow.
"If the DJ doesn't mix the beats and has a bad beats-per-minutes combination, then the entire crowd will be upset," said Savitt. "You need to understand music, measures, beats per minute and key signature."
Rabin has a system for building his crowd.
"You can play the top 50 songs over and over again through out the night. But it's more about building the people up as the night progresses and then peaking it," said Rabin. "Some DJs do choppy waves. That's where there's a lot of big ups and downs. I do a rise and a fall. I (might do) an hour set of straight bangers … when the most fun is going on. I play the top songs, the most crazy scratches … the stuff you know people love and you're proud to show to that many people."
Just as important as playing the right music is generating the right energy.
"Every night is a performance," Savitt said. "You've got to get into it because if you're not getting into it, the people aren't going to get into it."
Having a good time should come naturally, said Savitt.
"It's a lot of fun. (You get to) do what you love while making some money doing it. It's a good balance, it's a good life."
Copyright 2018 The Lawrence Journal-World. All rights reserved. This material may not be published, broadcast, rewritten or redistributed. We strive to uphold our values for every story published.