Photo Gallery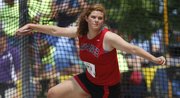 Class 6A state track (Day 2)
Wichita — Sophomore Bailey Sullivan crossed the finish line for the Free State High girls' 4x400 relay team Saturday evening at Cessna Stadium, making it official.
The Firebirds didn't have enough points to surpass Class 6A state track champion Olathe East, but the sixth-place medal for FSHS in the final race of a long, successful day sealed Free State's spot as the No. 2 program in the state.
After teaming with Sullivan, Khadijah Lane and Courtney Huffman to run the 4x400 in 4:06.97, senior Lynn Robinson said the entire team rallied throughout Day 2 of the state meet to cap a great weekend.
"You can't complain with second," Robinson said. "It's awesome, and everybody did so well."
Regret from the day before pushed Firebirds sophomore Alexa Harmon-Thomas throughout Saturday at Cessna Stadium
Harmon-Thomas, a favorite in the 100-meter hurdles, tripped and fell in the prelims and didn't qualify for the finals. She helped make up for the miscue by taking second place in the high jump (5 feet, 6 inches) and 300 hurdles (45.24).
"I just really, really wanted to score points for my team," Harmon-Thomas said. "I wanted to win for myself, but more for my team."
Her medal-winning day, which included a third-place finish in the long jump (17-10.5) even though she fouled on five of her six attempts, ended with her nearly catching 300 hurdles champion Alyson Youngdoff (45.0) of Blue Valley Northwest. In high jump, only Shawnee Mission East's Grace Pickell (5-10.5) was superior.
With the 100 hurdles fall often on her mind, Harmon-Thomas took satisfaction in contributing to the team's second-place finish.
"We were expecting quite a few points from that," she said. "Everyone's just really stepped up and been great."
Senior Lane added eight team points to the cause with a silver-medal performance of 58.01 in the 400. She finished less than a second behind champion Alexis Bowens of Derby (57.4) and couldn't have been much happier to get the run out of the way after sprinting as hard as she could against the wind for the final 100 meters in 90-degree heat.
"That back stretch," Lane said, "was the hardest thing I've ever ran before in my entire life."
Like the rest of the Firebirds, Lane knew each final had potential to move tvhem up the team standings.
"Any event helps. We need points, no matter what," she said. "You just have to try really hard. I'm really glad I fought through it."
Senior distance runner Robinson endured the afternoon heat and made pushes in both the 1,600 and 800 in the final 50-plus meters to improve her finish. Robinson took fourth in the 1,600 (5:20.02) and later was sixth in the 800 (2:23.12).
FSHS also benefited from a fourth-place finish from Kiara Clark in the 300 hurdles (46.75), which moved Free State into second place at the time. Earlier in the day, a fifth-place throw of 38-1 in the discus by Brie Mingus and a sixth-place run of 5:21.52 for Sullivan in the 1,600 gave FSHS some foundation in the points race.
Said Robinson: "The heat was brutal, but we all fought through it, and I'm really proud of everybody."
FSHS seniors second
Seniors DayShawn Berndt and Kain Anderson led Free State's boys to an eighth-place finish Saturday at state.
Though Berndt usually shines in the 200, he finished better in the 400 at state. His second-place finish (48.35) was less than a tenth of a second behind Wichita Southeast champion Steven Calloway.
"I was surprised I started catching him at the end," Berndt said. "I wish I would've known I could do that and kicked a little sooner."
Later, admittedly a bit worn out, Berndt took fourth in the 200, finishing in 22.47.
It wasn't the mid-afternoon heat taking a toll on Anderson, but he could have sworn after taking second in the 1,600 that he ran the "same exact race" earlier this season. Blue Valley West's Jeremy Bryan, Anderson and Shawnee Mission West's Jonah Heng traded spots at the front of the pack before Bryan earned gold with a 4:21.2 finish, just 0.69 seconds ahead of Anderson.
"I was planning on staying behind Jonah until maybe 200 to go, but that's when Jeremy started kicking." Anderson said.
The FSHS senior settled for silver.
"I'm not gonna lie," Anderson said. "I wanted that state champion medal."
Anderson took fifth in the 800, a race in which teammate Stan Skwarlo was seventh. The two of them ran with Berndt and Kyle Freese to a seventh-place finish in the 4x400.
Copyright 2018 The Lawrence Journal-World. All rights reserved. This material may not be published, broadcast, rewritten or redistributed. We strive to uphold our values for every story published.