Photo Gallery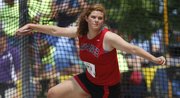 Class 6A state track (Day 2)
Wichita — After an uneventful first day at the Class 6A state track meet for the Lawrence High girls, freshmen sisters Matia and Rebecca Finley helped the Lions pick up some points and medals Saturday at Cessna Stadium.
"We needed points," Matia said with a laugh, after taking fourth place in her state discus debut with a throw of 133 feet, 4 inches. "We needed something."
Rebecca joined her twin sister on the medal stand after nabbing sixth in discus with a throw of 117-5. She said sharing the stage was what they and their father Jared, a thrower ay Wyoming University in his day, had hoped for when they began training as young girls.
"We've been doing it for so long," Rebecca said.
Rebecca hoped for a better finish, but said she had a hard time finding a rhythm as she thought about every step of her throwing process.
"It was just like a mind game," Rebecca said.
Matia, too, had a little trouble at first before setting a personal record on her second throw of the finals, landing the disc 6 feet, 2 inches farther than her best throw in her flight.
"I hadn't been throwing well at all," Matia said, "and then I just hit one pretty good."
LHS finished with six points and tied for 22nd with Shawnee Mission Northwest in the Class 6A team standings.
Caitlin Broadwell took eighth in the triple jump with a mark of 33-0.5.
Lawrence's boys, behind the strength of Friday performances by Steven Hill and Blake Hocking, finished sixth at state, with 32.5 points, well behind 6A champ Shawnee Mission Northwest's 54.
LHS senior sprinter Gari Jones missed the 100 finals by one-thousandth of a second. His 11.018 run in prelims wasn't enough following SMNW runner Davin Fancher's 11.017 in the other heat.
Copyright 2018 The Lawrence Journal-World. All rights reserved. This material may not be published, broadcast, rewritten or redistributed. We strive to uphold our values for every story published.