With the sting of Friday's quarterfinal state baseball loss fresh in their minds and the pain still showing in their eyes, the Lawrence High baseball team tried to find a silver lining to the 1-0 loss to Blue Valley West that ended the season.
Tough task.
Photo Gallery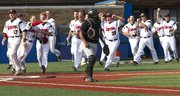 LHS baseball at 6A state
In what had to be one of the most impressive high school baseball games played this season, the seventh-seeded Lions (14-9) lost to No. 2 seed BVW (21-2) in the final at-bat despite watching senior ace Garrett Cleavinger throw a two-hitter.
On most nights, that's more than enough for the Lions to win. It wasn't Friday, and that was because the guy who started opposite LHS's Oregon-bound ace was up to the task of matching him.
Therein lies the silver lining.
"What I told our kids after the game was when both of those guys are pitching in the big leagues someday, we can all sit around and say, 'Remember that night when they dueled it out at the state tournament?'" said LHS coach Brad Stoll of Cleavinger and BVW's Collin Wiles, who's headed to Vanderbilt. "That was just a great high school baseball game."
And one with very few mistakes. After holding the Jaguars hitless through four innings, Cleavinger gave up a double in the fifth and the game-winning single in the seventh. That's it. And that's why it hurt. As soon as Tanner Gragg's single down the left field line landed in the bottom of the seventh, Cleavinger broke into tears and did not stop sobbing for quite some time. Almost as quickly, Stoll was there to greet his stud pitcher as he walked off the mound for the final time. Jags coach Bill McDonald was impressed.
"I'm tickled to death for our kids," McDonald said. "But more than that, I'm proud to have played Lawrence. I have so much respect for Lawrence High baseball and for Brad Stoll. Today was everything we expected it would be, and not just because we're at state, but because we were playing Lawrence."
Going into Friday's game, both sides knew it would be a pitchers' duel. It was in every sense of the word. Cleavinger and Wiles were so dominant that it made you realize why high schools don't use wood bats. Had the Lions and Jaguars been swinging sticks on Friday, more than a few would have wound up in the dumpster, broken in half by the hard-throwing hurlers on the mound. Groundball outs, strikeouts, fly outs. It was as if both pitchers were conductors leading a sweet symphony of defensive baseball at its finest.
"Any time you come here, you know you're going to be playing the best," Cleavinger said. "And that's what we got. We felt all along that this would be our toughest game of the tournament, and we believed that they were the best team here other than us."
Want to know just how precious and rare offense was on Friday? In the bottom of the seventh, after Blue Valley West's Ryan Agnitsch executed a sacrifice bunt that moved the winning run into scoring position, the entire Jaguars' dugout greeted him as he came off the field, just like you see when a guy hits a home run.
The victory was Wiles' fifth 1-0 win of the season. In addition, he ran his streak of consecutive scoreless innings to 42. As mind-blowing as those numbers are, Cleavinger more than held his own and continually showed why he will go down as one of the best pitchers to ever come through LHS.
"That's a tough way for a kid to lose," McDonald said. "I felt awful for Garrett because I thought he was sensational today. I gave him a hug after the game."
Added Wiles: "Garrett did a hell of a job competing today, just like we knew he would."
The final numbers only tell part of the story. Although both pitchers dominated throughout the game and walked away as the unquestioned stars of the day, each encountered trouble along the way. LHS put a runner in scoring position four times — twice at third base — and BVW matched that. Until the final batter of the game, both Cleavinger and Wiles found ways to get out of those jams.
"That's what happens when you've got two big-league prospects on the mound," said LHS senior Troy Willoughby, who finished 3-for-3 and was the only player for either team to record multiple hits. "It sucks for (Cleavinger) because he did what he was supposed to and we just didn't get it done."
Friday's result moved Blue Valley West into today's semifinals and put the Lions in position to wake up today with a lump in their throats. Although the sadness will linger for a long time, there were rays of sunshine peeking through on Friday.
"It's definitely tough to take right now," Cleavinger said. "But losing like that makes you feel better because you know you played good; you just got beat."
Copyright 2018 The Lawrence Journal-World. All rights reserved. This material may not be published, broadcast, rewritten or redistributed. We strive to uphold our values for every story published.