In the midst of as fervent a pitchers' duel as they likely ever will be a part of, the entire Lawrence High baseball team held its collective breath Friday evening at Hoglund Ballpark.
Photo Gallery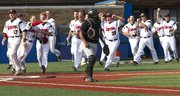 LHS baseball at 6A state
Left-handed Lions ace Garrett Cleavinger had matched Blue Valley West's top gun, senior righty Collin Wiles, inning after inning, and LHS was one out away from sending its Class 6A state tournament first-round game to extra innings.
With Jaguars senior Kyle Schlatter on second base, Cleavinger delivered a fastball to sophomore Tanner Gragg, who pulled it down the left-field line.
With every Lion on the field, in the dugout and watching from the bleachers trying to will the ball foul, Gragg's single dropped in fair by a couple feet.
Schlatter scored. Blue Valley west won 1-0. And just like that, Lawrence's season was through.
Emotionally wrecked after giving up just his second hit of the game (both to Gragg), Cleavinger walked toward the LHS dugout, holding his head in his hands. Lions coach Brad Stoll rushed out to meet him, and hugged the senior.
"He was crushed," the coach said. "Every single one of those kids was crushed, and that's why you didn't see anyone walk out of there with a dry eye, because they invest so much. That's why it hurts."
Cleavinger used words like "shock" and "disbelief" to describe his feelings as he watched the game-winner land fair.
"He put a good swing on it," the LHS starter said of Gragg.
Senior shortstop Troy Willoughby, who had three of Lawrence's four hits against Wiles, couldn't believe the game's dramatic ending, either.
"It's such a painful thing," he said. "There's not words to express the emotion that this team experienced. It's been such a long road for all of us, especially the seniors."
Like his players, it will take Stoll a long time to recover from the sting of the one-run loss.
"You're in total shock," he said of the moments following the official end of the season. "I know there's a lot of worse things in life, like losing a loved one or something like that, but these are my loved ones. These are like my boys, and they lost the biggest game of the year. To see that ball drop, your heart literally just stops for a second."
Cleavinger and the Lions defense got out of five other innings in which a BVW runner reached base. Willoughby and second baseman Trevor Champagne turned a double play in the third. Cleavinger retired two hitters in a row following a one-out double by Gragg in the fifth. Then in the sixth, Cleavinger erased a leadoff walk to Bret Fiser by catching him leaning toward second and throwing to first baseman Matt Sutliffe, who rifled out Fiser at second base. Cleavinger followed the pickoff with a strikeout and a groundout to third baseman Shane Willoughby.
The scoreless game, Cleavinger said, made the state atmosphere even more intense.
"It makes every at-bat important; it makes every pitch important," he said. "You've gotta be locked in every pitch, or else you can make a mistake that could cost you the game."
The best chances for LHS (14-9) to score on BVW (21-2) came in the first, third and sixth innings, when the Lions advanced a runner to third.
Troy was stranded 90 feet from home plate with two outs in the first and third innings. Courtesy runner Erick Mayo, who ran for catcher Drew Green in the sixth, stole second base and reached third on a passed ball with two outs before getting abandoned.
Junior right fielder CJ Stuever's two-out single in the second also amounted to nothing.
As impossible as it seemed for the Lions to find something positive in defeat, Troy did.
"It's probably one of the best high school baseball games that I've ever seen played," the senior shortstop said.
Stoll agreed, and couldn't help but remember a line from former MLB manager Tony La Russa about baseball being a cruel game.
"He's not lying," Stoll said.
Copyright 2018 The Lawrence Journal-World. All rights reserved. This material may not be published, broadcast, rewritten or redistributed. We strive to uphold our values for every story published.