The Franklin County Sheriff's Office has identified a suspect and issued a warrant for arrest in an attempted theft of an ATM that occurred at Patriots Bank in Princeton on Sunday. Officers are looking for Jason Michael Smith, 33, in connection with the incident and are asking anyone with information about his whereabouts to call their office at 1-888-311-8477.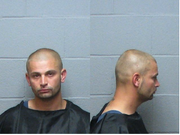 About 1:30 a.m. Sunday, officers responded to an alarm at the bank and found a truck attempting to flee with the ATM. The suspect then fled the scene without the machine, eventually fleeing on foot after crashing the truck.
Smith is wanted for felony theft, felony criminal damage, vehicle burglary and felony flee and elude. He is described as a white male with brown eyes and brown hair and 5 feet, 9 inches tall.
Copyright 2018 The Lawrence Journal-World. All rights reserved. This material may not be published, broadcast, rewritten or redistributed. We strive to uphold our values for every story published.