When Manny Romero showed up to the first day of Lawrence High track practice last year, coach Jack Hood had no idea who he was.
Romero, who had played baseball his whole life, told the coaches that he planned on being a runner and a jumper.
"It didn't really fit me at all," Romero said.
His next decision ended up being a good one.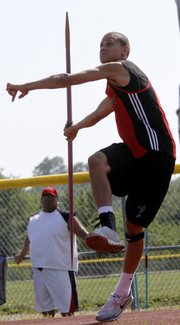 Then a junior, Romero transitioned to javelin to see if his baseball skills (he'd played pitcher and third base) might translate to a throwing event.
A year later, Romero is seeded third in the Class 6A javelin heading into today's state championships at Cessna Stadium in Wichita.
"In baseball, it just felt like it wasn't really going anywhere," Romero said "In javelin, I kept improving every day."
Romero's first throw his junior year was just 85 feet. Still, LHS javelin coach Don Durkin continued to tell Hood that there might be something there, as Romero had a strong throwing arm.
"He was OK last year, but not in the hunt to go to state," Hood said. "If you'd have told me he was going to go to state this year, I'd have told you that you were crazy at the start of the year."
Romero proceeded to set personal records in more than half of his meets this year.
That included last week at regionals, when Romero launched a throw of 174 feet, 10 inches, finishing third with a toss that was more than double the length of his first throw a year earlier.
Romero credits Durkin for his drastic improvement, as the coach helped him with his steps and also taught him the correct throwing motion.
"I thought I was doing it right," Romero said, "but Durkin put me in my place and showed me how to do everything right."
The skinny and lanky Romero also has excelled despite not having a normal body type for a javelin thrower.
"There's some big ol' dudes out there," Romero said. "I'm pretty small compared to everybody else."
Romero's goal is to set another PR during today's 1:15 p.m. javelin finals.
He also has the potential to contribute team points for the LHS boys, who finished second at last week's regionals.
"We qualified a bunch of boys in a bunch of events. We'll see," Hood said. "We could finish anywhere from dead last to top four or five, you hope. It just depends on how we show up."
Hood has been pleased with the progress of this year's squad.
"I know coaches say that all the time, but we were a bad track team our first few meets," Hood said. "We didn't have much of anything. We had a good shot putter (Blake Hocking). We had a good triple jumper (Steven Hill). And we had a sprinter that told me he wanted to be a good sprinter (Gari Jones). And he worked all year, and it turned out he was a really good sprinter.
"But every week, somebody kept showing up."
The LHS girls finished fifth at last week's regionals, and Hood said while this year's squad doesn't have much experience, it does has the most talent of any Lions team in the last five years.
LHS also appears to be peaking at the right time, as boys and girls combined for 44 PRs at regionals last week.
"You ask the kids to do their best when it matters most. That group did," Hood said. "We just kept building and building.
"We started a bad track team. We'll see where we finish."
Copyright 2018 The Lawrence Journal-World. All rights reserved. This material may not be published, broadcast, rewritten or redistributed. We strive to uphold our values for every story published.