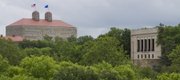 Subscribe to the email edition of Heard on the Hill and we'll deliver you the latest KU news and notes every weekday at noon.
Your daily dose of news, notes and links from around Kansas University.
• This KU-license-plate-in-Missouri stuff has been one of those stories that just keeps giving and giving.
Missouri Rep. Stephen Webber, a Democrat from Columbia, gave quite an impassioned speech against the whole effort, which really doesn't appear to be going anywhere anyway.
"Madam Speaker, I'm of course referring to the effort by some to affix the dreaded, disgusting Jayhawk symbol onto our Missouri license plates," Webber says in the speech. "Madam Speaker, in this state we brew the beer that the world drinks; we build the fighter planes that keep the world free; we raise the food that the world eats; and we raise Tiger fans. Madam Speaker, I was raised as one of those Tiger fans. To me there's no sweeter sounds than a good M-I-Z-screw-K-U chant."
(I know I've heard that last cheer with another word substituted for "screw," as well.)
Well, Andy Greenhaw, a 2009 KU graduate from Denver, took the audio and pulled it into a video that compares Webber to Napoleon Dynamite, the 2004 oddball movie character. And posted it all on his blog.
And all this (including the video), has been pulled together in one big story on the Huffington Post.
So, like I said, the whole thing just keeps crawling along with a life of its own.
• While I couldn't make it out to the ceremony like I'd hoped, I did hear word of a pretty cool deal that was scheduled for Tuesday afternoon.
After Louie Edwards, a master's graduate in higher education administration, woke up on Friday with some pretty intense pain, he was hospitalized and treated for blood clots.
The medical emergency caused him to miss the commencement ceremony, so four faculty members in the School of Education on Tuesday were set to have him walk through the Campanile, and then have the faculty members present him with his hood in the traditional commencement cap and gown.
• David Frayer, a professor of anthropology at KU, offered a few thoughts on the changing nature of scholarship into Neanderthals to the Huffington Post recently.
The website wrote that the scholarship is evolving more and more away from the "prototype of shaggy man with absolutely zero smarts" and more to "not a little bit like us but a lot."
Frayer said that, in the last five years, journal articles have linked Neanderthals to all kinds of smart stuff, including "seafaring, use of ochre, intentional burials, feather-ornament-pigment procurement, ritual behavior, modern-like food preparation, distribution of raw materials between regions, complex site structures and dietary diversity."
I doubt Geico will be changing its commercials anytime soon, however.
• Heard on the Hill tipsters are even smarter than your average Neanderthal, so keep sending in those tips to ahyland@ljworld.com.
Copyright 2018 The Lawrence Journal-World. All rights reserved. This material may not be published, broadcast, rewritten or redistributed. We strive to uphold our values for every story published.