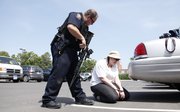 Area police officers and medics took part in a nightmare scenario Wednesday on the Kansas University campus.
As part of the public safety exercise, two shooters had wounded people outside Corbin Hall, a residence hall for women. Three officers were wounded inside. One suspect took hostages inside a room.
More KU police and Douglas County Sheriff's officers rushed inside armed with rifles.
"Obviously, we hope that nothing like this ever occurs at KU," KU Police Chief Ralph Oliver said. "But it is my job to make sure that we are prepared and ready."
It was an annual drill, although more involved than earlier ones, as Oliver said it required coordination among every law enforcement agency in the county, Douglas County Emergency Management and Lawrence-Douglas County Fire Medical.
KU spokesman Gavin Young said the exercise also allowed the university to test its alert system, which allows KU to send text and other messages to the campus in the event of a crisis or emergency.
"There's value in practicing for any situation whether it includes an active shooter or whether it includes a hostage situation," Young said.
Oliver said the scenario raised stress levels for the officers.
At one point a man in a green shirt fired blanks from a handgun at two officers just outside Corbin, 420 W. 11th St. Oliver said the "shooters" were officers from outside agencies.
"Even though they know it's a simulation, they know that in a real situation they will be required to perform in a manner that they've been trained to do," Oliver said. "It allows them to see how they perform. It allows us to see how they perform."
The exercise lasted for several hours, and some circumstances did not match the real thing, he said. There wasn't the noise of sirens and other commotion that would come. Also, the residence hall was empty so no students came running or screaming from the building.
Things also happened slower than they would in a real situation, he said. At least two people who were "shot" outside Corbin laid on the sidewalk for several minutes before it was determined the area was safe and secure for medics to arrive.
Oliver said the scenario is valuable for supervisors as they seek to smoothly coordinate with one another and review strengths and weaknesses of the response.
Other than KU public safety officers, agencies participating included sheriff's officers, police officers with Lawrence, Eudora and Baldwin City and Lawrence-Douglas County Fire Medical.
As they prepare to respond to dangerous situations, university officials seek to learn lessons from past events, like the 2007 Virginia Tech massacre in which a gunman shot and killed 32 people on campus.
"With Virginia Tech there have been numerous reports and papers written on how they responded and how universities should be looking at what we should have in place should something like this occur," Oliver said.
Copyright 2018 The Lawrence Journal-World. All rights reserved. This material may not be published, broadcast, rewritten or redistributed. We strive to uphold our values for every story published.