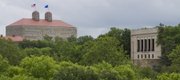 Subscribe to the email edition of Heard on the Hill and we'll deliver you the latest KU news and notes every weekday at noon.
Your daily dose of news, notes and links from around Kansas University.
• I heard this week that Pat Pisani, a longtime executive director of the Hilltop Child Development Center, will be retiring from that position.
KU has a job search open for a new director for the facility that has its roots in the February Sisters movement in the early 1970s.
Here's a bit about Hilltop's history, courtesy of its website.
Pisani, reached on Monday, said she had been at Hilltop now for 21 years, not counting a few years she spent teaching at Hilltop in 1978-1980.
She said she was proud of helping to move the facility into its current building at 1605 Irving Hill Road, out from the Wesley building. The move was made in August 2000. A new expansion came in the later part of the last decade.
Pisani, who has a background in biology in addition to her early childhood education, said she doesn't know what's next for her quite yet. Something, perhaps, she said, for someone who loves both biology and children a great deal.
• Mark Holder, an assistant professor of ecology and evolutionary biology, is one of 10 researchers working on a $5.76 million National Science Foundation grant to build "a grand tree of life that brings together everything scientists know about how all living things are related," according to a release on the project.
The project, which can be found online here, seeks to unite all 1.8 million species that we know about today.
"Biological research of all kinds, including studies of ecological health, environmental change, and human disease, increasingly depends on knowing how species are related to each other," the project's website reads. "Yet there is no single resource that unites knowledge of the tree of life."
• Joshua Rosenbloom, an economist and KU associate vice chancellor for research and graduate studies, will be leaving his post to accept a visiting assignment with the National Science Foundation.
While he's gone, he'll keep his faculty rank and his status as a research associate with the National Bureau of Economic Research.
Rosenbloom joins faculty members Joane Nagel, sociology; Prasad Gogineni and Joseph Evans, electrical engineering and computer science; and Erik Herron, political science, who is currently in Washington as NSF program director in a political science program.
An internal search is being conducted to find Rosenbloom's successor as associate vice chancellor.
• The tree of life is always in full bloom here at Heard on the Hill World Headquarters at Seventh and New Hampshire, and that's thanks in large part to the awesome tips you keep sending in at ahyland@ljworld.com.
Copyright 2018 The Lawrence Journal-World. All rights reserved. This material may not be published, broadcast, rewritten or redistributed. We strive to uphold our values for every story published.