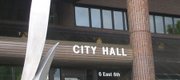 Subscribe to the email edition of Town Talk and we'll deliver you the latest city news and notes every weekday at noon.
News and notes from around town:
• How much does Lawrence love public transit? Based on the results of the November 2008 general election, Lawrence loves public transit like my wife loves the QVC shopping network.
In other words, they found it very hard to say no to. Voters in that election approved two sales taxes — one to support basic operations and another to enhance service. Not only did they approve the sales taxes, they did so overwhelmingly with every precinct in the city supporting the measure. Most precincts supported the measures at levels greater than 60 percent.
They did so, in part, because they were told the city's transit system likely would dissolve if the sales tax votes weren't approved.
Given all that, it will be interesting to see whether local elected leaders take up another transit funding challenge in the near future.
The K-10 Connector — the fairly popular bus services that runs between Johnson County and Lawrence — isn't yet on its death bed but it certainly has a troubling fever.
A May 14 article in the Kansas City Star highlighted how Johnson County commissioners have brought up the possibility of major cutbacks in public transit service in JoCo.
One route mentioned specifically was the K-10 Connector route. The route has two stops in Lawrence — the Kansas University Park and Ride lot and the shopping center at 19th and Haskell. In Johnson County it stops at Johnson County Community College and KU's Edwards Campus.
I've heard some estimates that about 60 percent of the riders originate from Lawrence. But as we reported in a Town Talk earlier this year, the city of Lawrence, KU nor Douglas County pays anything to help cover the cost of the service.
Based on the tenor of the conversations at the Johnson County Courthouse, that may need to change, if the service is to continue for the longterm
I've recently exchanged some voice mails with one of the Johnson County transit leaders, and it appears the immediate threat for survival of the system has passed. But I think in the next several months efforts will intensify to get local officials to help support at least some of the route's approximately $840,000 in costs.
It will be interesting to see whether local leaders take to the idea. In the past, I haven't sensed great support in Lawrence taking more ownership in the route.
But on the other hand, I frequently hear two comments when it comes to public transit in this town: 1. I wish public transit would do more to take our cars off our street. 2. Look at all those empty seats on Lawrence transit buses.
Well, the K-10 Connector route certainly would seem to be cutting down on vehicle traffic on K-10. Unless you've bought one of those hover crafts off of QVC, it appears this bus or a private vehicle are your only options to get between Johnson County and Lawrence.
As for the second argument, the idea that all Lawrence transit buses drive around all day empty is overblown. But I would guess that these K-10 buses — when looked at in terms of riders per bus — would compare very favorably to any city-operated bus.
As far as I know, Johnson County leaders haven't yet made a formal budget request to any of the local entities. I'll let you know, though, if that changes.
• There are lots of fun things to play in the dark (my friends and I once played horseshoes with only the aid of a flashlight), but evidently tennis isn't one of them.
As has been well-documented, there has been a long-standing effort to get lights installed at the new tennis courts at Lawrence High School. Neighbors, though, have fought that plan vigorously, and the idea didn't fare too well the last time it came before the City Commission.
Now, it is my understanding the city has begun talking to the Lawrence school district about lighting the courts at Free State High School instead. I've been told the school district and parks and recreation leaders met earlier this month on the topic.
There are only five courts at Free State, as opposed to the eight that would be lighted under the LHS proposal.
The Free State courts are much farther away from any residential neighborhood than the LHS courts. I suspect the talks between the city and the school district will revolve around who will pay for what. Almost certainly, it would seem, the city would pay to light the courts. But does the school district have any interest in paying to expand the number of courts at Free State? I'll let you know as those discussions progress.
In the meantime, there are a few lighted courts spread around town. Or, you can try it in the dark. (It surely won't hurt as much as the horseshoe did. I still don't know how my wife got her hands on that horseshoe.)
• Perhaps when we were playing horseshoes in the dark we weren't just "aided" by a flashlight. I remember a variety of empty beer cans as well, and looking back, that may not have been as much of an aid as we envisioned.
If your tastes for spirits are bit more mature than that (we're all hoping they are) there's an event coming up in De Soto that may interest you.
The De Soto Rotary Club is hosting the inaugural Winesong at Riverfest event from 4 p.m. to 8 p.m. on June 16 at De Soto's Riverfest Park.
The event will feature wine samples from 14 different Kansas wineries. It looks like four of the wineries are based out of Douglas County. This further boosts my assertion that Douglas County is quickly becoming the wine capital of Kansas. It will be interesting to see if local leaders try to capitalize on that tourism opportunity in the future.
The De Soto event charges a $15 entry fee, but it includes 10 complimentary wine samplings, a souvenir wine glass, and appetizers from local food vendors. Click here for more information.
Copyright 2018 The Lawrence Journal-World. All rights reserved. This material may not be published, broadcast, rewritten or redistributed. We strive to uphold our values for every story published.