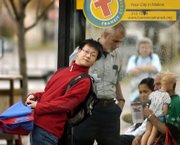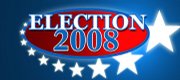 In-depth coverage of the candidates and the issues, all leading up to the Aug. 5 primary and the Nov. 4 general election.
The roar of the Douglas County Courthouse had died down. Fist pumps and raised arms had given way to quiet handshakes, and lungs that once yelled now exhaled with relief.
City Commissioner Mike Amyx walked down the courthouse's concrete steps Tuesday evening but stopped before heading to his car. There was time for one last big-picture observation on a night when the country was in the mood for big-picture punditry.
"You know, I think this is going to end up being a pretty important night for Lawrence," Amyx said.
Time will tell on that, but the results of Election 2008 certainly showed that it was an unusual one. Let it be shown that on Nov. 4, a City Hall issue actually had united the city.
Voters approved not one but two sales tax increases with approval ratings of 70 percent or more. A third sales tax increase won with nearly 69 percent of the vote.
Victories of 70 percent or greater aren't unheard of in Lawrence - Lawrence school bond issues in 2005 and 1992 passed with 70 and 73 percent of the vote - but the across-the-board support all three sales taxes received is unique.
Not a single precinct in the city voted against any of the three sales taxes. On Question No. 1 - the infrastructure sales tax - all 49 precincts posted approval levels of 65 percent or more. On Question No. 2 - the sales tax for basic transit services - support levels fell below 60 percent in only one precinct. Voters near Corpus Christi Church in west Lawrence gave the tax a 57 percent approval rating.
Few people were making such predictions in August when city commissioners agreed to place all three sales tax questions on the ballot. The idea of three separate sales tax votes - one for infrastructure and two for public transit - was the brainchild of Mayor Mike Dever. He was immediately criticized by varying groups that the separate votes would likely doom all three issues, but especially the transit funding.
Dever, though, held firm to the idea, saying that his research showed that nationally about 70 percent of all transit sales tax votes won approval.
"All the data showed that was the national trend," Dever said Wednesday morning. "I just didn't think we would be that different from everybody else."
As the national news over the last month turned particularly sour on the financial front, Dever continued to remain confident that the sales taxes would be approved. Privately, he predicted two weeks ago that all three sales taxes would win comfortably.
"I think we have a lot of people in this community who are willing to look at the big picture," Dever said. "And I think people were happy they had the chance to vote. The vast majority of people thanked me for allowing them to vote.
"When you allow people to control they're own destiny they are more willing to do something hard because they feel like they made the decision themselves. Taxing yourself is still hard, but people showed they're still willing to do it for the right cause."
Copyright 2018 The Lawrence Journal-World. All rights reserved. This material may not be published, broadcast, rewritten or redistributed. We strive to uphold our values for every story published.