When Megan Tunget arrived at Lawrence High School, she was the "quiet girl," the one who always had a lot to say but never raised her hand to say it.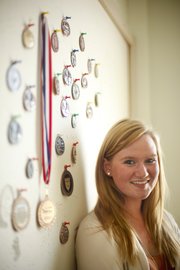 "In a new situation, I'm really quiet. I don't talk to anybody. I observe and figure out what is going on," Tunget said of her first year in high school. "And, I felt really awkward in high school. It seemed so different. All the older kids seemed to know what to do."
That shy sophomore is finishing her high school career having excelled at two not-so-quiet activities: debate and choir.
"It just shows that you never really know what is inside a person," Lawrence High School's choral director, Cathy Crispino, said. "She is a lovely soprano."
She's also performed in school musicals and provided leadership in concert choir.
"I think everyone is looking for a way to express themselves. And she has a real love of music and she really does have a gift," Crispino said.
Tunget attributes joining the school's debate and forensics team with helping her find her voice.
In eighth grade, Tunget decided she was going to become a lawyer.
"It started out with me wanting to be president; I know it's not the most realistic goal. I've always been interested in politics, especially law, " Tunget said.
To prepare for her career, Tunget joined the debate and forensics team.
In her first year or so, Tunget heard the same thing from the judges after nearly every competition: She needed more confidence.
"When she first got here as a sophomore, she was a very quiet person," LHS debate and forensic coach Jeff Plinsky said. "What struck me on first blush, she didn't appear to be the kind of student who would have success in debate. Typically, it's your talkative ones who like to be out front. That's not her. She has no real interest in the limelight."
During her sophomore year, Tunget had a little bit of success. That grew during her junior year, when she placed in several regional tournaments and took sixth place in the Lincoln Douglas Debate at the state speech championships.
She's an outstanding public speaker, Plinsky said, adding that her critical thinking skills are "head and shoulders above her peers'." She's also competitive.
Tunget said she liked the group of "misfits" that made up the debate and forensics team.
"Everyone was so accepting when I came to debate and forensics. You were praised for being a weird kid," she said.
During her senior year, Tunget continued placing high in regional tournaments and then took first place in a competition that qualified her for the National Forensic League tournament in Indianapolis this June.
It was during that national qualifying tournament that Tunget's high school career hit another pinnacle. When she called her mom to tell her she made it to the national tournament, her mom mentioned there was a big package that arrived from the Gates Millennium Scholars Program.
Tunget urged her mom to open the envelope, thinking since it was big it had to be good news. Inside was a letter welcoming her into the program.
"I almost started crying, and I don't cry," Tunget said.
The program, which is funded through the Bill and Melinda Gates Foundation, picks 1,000 students every year to receive a scholarship that pays for a student's entire four years of college. The scholarship is for minority students who have high leadership and academic potential. Tunget is one-quarter American Indian.
"Shell shocked, that's the best description of her at that moment," Plinsky said. "She was stunned. And for a debater to be speechless, that gives you some idea. She just didn't know what to say."
She was one of 10 students in Kansas to receive the scholarship this year.
It was a huge relief for Tunget, who was raised by a single mom who's taking college courses at Johnson County Community College herself.
"We don't have a lot of money. And I had no idea how I was going to pay for everything," she said.
Tunget plans on attending Kansas State University next year, and she will start saving money for law school.
When she heads off to college, she'll take with her the lessons from that first year of high school, back when she was the quiet girl.
As a senior, she's no longer hesitant to raise her hand, and the debate judges never tell her she needs more confidence.
"Now when I have something to say, I step up and say something," Tunget said.
Copyright 2018 The Lawrence Journal-World. All rights reserved. This material may not be published, broadcast, rewritten or redistributed. We strive to uphold our values for every story published.