Hundreds of motorcycles will course through Lawrence via Interstate 70 on Monday morning for the annual Run for the Wall. Started in 1989, RFTW is a nationwide campaign designed to direct attention to missing soldiers and prisoners of war.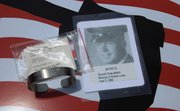 As the bikes motor by Lawrence, Bill Cassity and his wife, Nancy, will join the mission on their motorcycles. American Legion riders, Bill and Nancy will ride among the seemingly endless stream of motorcyclists for five days, cruising to the Vietnam Veterans Memorial Wall in Washington, D.C.
An American flag will flap at the back of Bill's bike. And emblazoned on his windshield will be a picture of Russell Dean Martin, lieutenant colonel and co-pilot of a plane that went missing in 1963.
For Bill and Nancy, the RFTW journey is a personal act done in honor of Martin. The Cassitys will visit Martin's grave site in Arlington National Cemetery, then return an MIA bracelet to his daughter in Missouri.
Back in 1974, Bill's mother, Dorothy Cassity, gave a donation, dipped her hand into a box filled with stainless steel bracelets and plucked one out. On the bracelet was an engraving: Russell Dean Martin, lieutenant colonel, missing June 3, 1963. All of the bracelets had similar engravings: name, rank and date of loss.
Dorothy wore the bracelet for a while. Then she wrapped it in plastic and put it away.
"I was hoping that they would find him and that I could find him and give it back, but … they didn't."
Martin, 29, was killed with a crew of five soldiers after flying into Laos on a mission, according to Task Force Omega Inc. Their plane was shot by enemy ground fire until it burst into flames, nose dived and crashed into the ground.
Martin and his crew were not found until the 1990s; they were not identified until 2004.
Last November, when Nancy and Bill made reservations to go on the RFTW, they decided to search for the Martin family.
Nancy tracked down an email address of one of Martin's daughters and sent her a message. A couple of weeks later, the phone rang. Nancy told Martin's daughter what they were doing: they would go to the grave to honor Martin, and they could leave the bracelet there or return it to the family.
"We felt like it was the family's bracelet at this point," Nancy said. "She said she would actually like to have (it)."
Nancy and Bill will stop to see Martin's daughter and give her the bracelet on their way home.
"It's very humbling to be part of this," Bill said. "This mission is in honor of him."
While this RFTW journey will be the Cassity family's first, it will likely not be their last. The family has a marked history of military service — ­­from Navy to Marines, from World War II to the Korean War — and the RFTW event resonates with them deeply.
"Unfortunately every single family somewhere through the generations has been touched by war," Nancy said. "Every single family very well could have had someone who was a POW or MIA, and there are still families out there who have someone who never came home. ... They're still out there — we need to get these guys home."
Copyright 2018 The Lawrence Journal-World. All rights reserved. This material may not be published, broadcast, rewritten or redistributed. We strive to uphold our values for every story published.