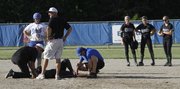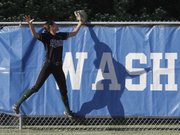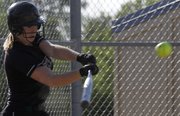 Topeka — There is no worse time to lose a key player than the postseason.
Already down a starting shortstop for its softball regional championship game Wednesday night on Washburn Rural's home field, Free State High lost its fill-in shortstop, too, derailing what little momentum the Firebirds had created and contributing to a disastrous first inning.
After junior A'Liyah Rogers hurt her lower-right leg while tagging out the Blues' Svannah Moore, who was trying to steal second base in the bottom of the first, Rogers lay on her back crying and eventually was helped off the field.
Though FSHS held a two-run lead at the time, what followed was a nine-hit, nine-run bottom of the first for hot-hitting Washburn Rural, which went on to capture a Class 6A regional title with a 16-3, five-inning victory.
Rogers usually starts in right field for Free State (13-8), but coach Lee Ice moved her to shortstop when senior Sam O'Brien fell ill the day before and wasn't able to suit up for the Firebirds' regional playoff games. FSHS beat Manhattan, 9-6, in a semifinal earlier in the afternoon.
Though Rogers was re-inserted to the lineup an inning later, at the time her injury seemed to rattle the Firebirds.
Said Ice: "We're kind of looking around, wondering who's gonna be next."
Making the situation worse, eight of the next nine Rural batters reached base with a hit, and Free State trailed 9-2 by the time the second inning began.
Junior Courtney Parker, whose two-run double in the top of the first gave the Firebirds a fleeting 2-0 lead, said the Blues hit the ball well, and FSHS couldn't stop them.
"I think we all just had to adjust to A'Liyah getting hurt," Parker said. "We couldn't do what we needed to do."
WRHS (19-3) finished with 16 hits. Alyssa Carney doubled and homered, Hannah Weingartner tripled and doubled, and Sophia Holman smacked another home run.
The Blues could have had another four-bagger in the first had it not been for FSHS freshman center fielder Kylie Cobb, who came in as a defensive replacement when Alex Hill moved to shortstop for Rogers. Abby Breeding knocked a fly ball to deep center field, and Cobb was there to keep it from clearing the fence.
Sophomore pitcher Meredith Morris, who relieved starter Kaley Delg in the third, said the Firebirds were disappointed to finish a win away from the state tournament.
"For the last game, of course it's always a downer to lose," Morris said. "But when you look at the rest of the season, we haven't had a winning record in a while, and we accomplished a lot this year, and we'll build from this next year and in years to come."
The Firebirds didn't have much trouble knocking the ball around the park in their afternoon victory over Manhattan.
Remington Samuels, Hill, Morris, Ariana Frantz and Hannah Whipple each produced two hits.
Though the Indians tallied one more hit (13) than FSHS, the Firebirds out-slugged MHS. A solo home run from Morris in the bottom of the second tied the game at 2 and a two-run blast to right-center field off Whitney Rothwell's bat gave Free State a 5-2 lead in the third.
Manhattan had the bases loaded with one out in the top of the fourth, but a leaping grab by shortstop Rogers on a Tyler Hoyt line drive took away a hit and Morris got Kylie Smith to ground out, ending the MHS threat.
A four-run fifth helped FSHS take control. Following an RBI double from Morris off the left-field wall, courtesy runner Kylie Cobb scored on a wild pitch. A Manhattan error in left field allowed courtesy runner Marlee Yost-Wolff and Summer Frantz to score.
The Indians put together a five-hit, four-run sixth to cut Free State's lead to 9-6, but Morris picked up the complete-game victory by holding MHS scoreless in the seventh.
Copyright 2018 The Lawrence Journal-World. All rights reserved. This material may not be published, broadcast, rewritten or redistributed. We strive to uphold our values for every story published.