Olathe — Not that anyone at College Boulevard Activity Center could tell, but lower back and posterior pain had dogged Lawrence High junior Shane Willoughby of late.
That torment disappeared momentarily Tuesday night after the LHS relief pitcher struck out the side against Olathe Northwest in the bottom of the seventh inning, earning the Lions a 3-2 victory and a trip to the state tournament.
Willoughby fanned nine of the 13 batters he faced in four innings, including five in a row between the sixth and seventh.
Photo Gallery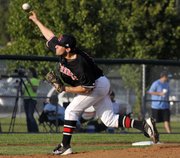 2012 Class 6A baseball championship: Lawrence High vs. Olathe Northwest
The final ONW whiff of the night led sophomore Lawrence catcher Drew Green to tackle his pitcher, and the rest of the crazed Lions shot out of the dugout to form a dog pile on Green and Willoughby.
"When that was going, I couldn't feel it," Shane said of the pain. "The adrenaline was just crazy. I was shaking. It was awesome."
His agony wasn't nearly as visible as the cramps wreaking havoc on his older sibling Troy's legs, but the Willoughby brothers gutted through the second half of a Class 6A regional doubleheader (Lawrence beat Free State 4-0 in a semifinal) to help the Lions return to state for the second year in a row.
Troy served as Lawrence's starting pitcher and showed signs of cramping while making warm-up throws in the middle of the first inning. LHS coach Brad Stoll marveled at the senior's ability to grit through three innings, strike out five and give up four hits and one run for the win.
"You can't say enough about the start that we got," Stoll said, "to get three innings out of Troy, who can't even stand up because he's cramping up so bad."
Between pitchers Troy, Shane and Garrett Cleavinger, who threw a three-hit shutout and struck out eight against FSHS, Lawrence's pitching made a regional championship possible.
Stoll said Cleavinger's "super competitive" nature set up the successful night.
"He was on and he wasn't gonna go down," Stoll said. "He wants to keep playing high school baseball. He was really special."
Cleavinger was just as complimentary of Shane for coming in to "shut the door" and deliver nearly untouchable pitches. In four innings, Shane allowed just one hit.
"That's something that Shane can do on a nightly basis," Cleavinger said.
Shane said LHS (14-8) needed its pitchers to control the playoff games.
"Our offense, it was OK," he said. "We had a couple really good innings, but it wasn't all the way there like it needs to be."
The Lions scored all three of their runs against ONW (13-9) in the top of the third. With one out, Cleavinger lined a single to right field, Shane followed with a double off the left-field wall and Troy drove them both in with a two-run double that gave Lawrence the lead for good.
Jake Vinoverski tacked on another run, securing a 3-1 LHS lead, with an RBI double over ONW left fielder Jonathan Evans' head that plated courtesy runner Erick Mayo.
With the thrill of earning a regional championship still lighting up the Lions' faces minutes after sealing the win, Stoll addressed the players on the field.
"You guys," he said, "are truly Chesty Lions."
The 6A state tournament begins May 25 at Kansas University's Hoglund Ballpark.
Copyright 2018 The Lawrence Journal-World. All rights reserved. This material may not be published, broadcast, rewritten or redistributed. We strive to uphold our values for every story published.