Olathe — Just call him Kirk Gibson.
Sure, the ball stayed in the yard, and, yeah, this big hit came in the early innings of Tuesday's 3-2 regional championship victory against Olathe Northwest instead of stacked against the drama of the late innings. But still, there was something about the way LHS senior Troy Willoughby limped between first and second base that brought visions of the legendary Los Angeles Dodgers slugger to mind.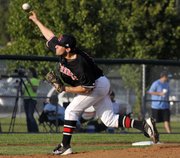 So what if Willoughby was not even born yet when Gibson delivered a pinch-hit, injury-riddled, game-winning, two-run home run in the ninth inning of Game 1 of the 1988 World Series.
"I've seen that a few times," said Willoughby, whose two-RBI double in the third inning led to all three LHS runs. "And Coach (Brad) Stoll said something to me about it tonight."
With his lower body basically one big cramp and his team one win away from its third trip to the state tournament in the past four years, Willoughby was determined not to let a little pain stand in the way of victory. One problem. This was not just a little pain. This was the kind of pain that showed on his face after every pitch, during every swing and after every attempt to find a little more in the tank.
"That was a special performance by a special kid," Stoll said. "That's all you can say. There's no magic pill you can give someone, nothing you can say to him. For a kid to deliver that kind of clutch performance is just all heart."
Willoughby's cramping issues began to surface after he picked up a bloop single in the top of the first inning. Shortly thereafter, when the senior pitcher went to the mound for the bottom of the first, he collapsed to the ground after one of his warm-up pitches. After Troy's tumble, younger brother and LHS shortstop, Shane Willoughby, said he heard some chuckling from the Olathe Northwest dugout. But it was the Lions who got the last laugh.
Stoll admitted he was concerned when he saw his starting pitcher go down. In fact, he and his coaching staff even talked about whether they should pull the plug.
"We debated it," Stoll said. "But he just kept pumping strikes. We were hoping to get five innings from him, but the kid couldn't even stand up. So we decided to pull him after three and move him to shortstop."
Of the decision to stay in the game, Troy said: "They asked me if I was OK, but they didn't really ask me if I wanted to come out because they knew the answer was gonna be no."
If Willoughby's two-run double in the third was vintage Gibson, the rest of his game was Cal Ripken Jr. — pure Iron Man.
Once he left the mound — after three innings, five strikeouts and a crucial pick-off to end the second inning — Troy did not encounter much action. That was thanks to Shane, who pitched the final four innings and struck out nine of the 13 batters he faced.
"I think that was the thing," Troy said with a laugh. "He did not want them to hit the ball to me."
Shane said his success came because of his brother.
"To see him battle on the mound like he did, that just gave me extra drive to do everything I could for him," Shane said.
To say Tuesday's regional championship came because of the effort of two brothers who, perhaps better than anyone, illustrate exactly what the LHS baseball program prides itself on, would be unfair to the eight or nine other guys who did their part to advance the Lions to state. But you'd never think that by watching the scene after Tuesday's final victory.
As teammates, fans and fellow Lions young and old filed out of the College Boulevard Activity Center after the game, several of them paused to talk to Troy. Some offered hugs, others told him they loved him, and one fan, who could not have been much older than four, even went as far as to say, "You OK?"
Troy, unable to turn off his unselfish demeanor, sighed, smiled and answered the young fan with a "You bet. Are you OK?"
He was, of course. He had just witnessed his own, smaller-scale Kirk Gibson moment.
"That's the kind of stuff you tell your team about 20 years from now," Stoll said.
Copyright 2018 The Lawrence Journal-World. All rights reserved. This material may not be published, broadcast, rewritten or redistributed. We strive to uphold our values for every story published.