Olathe — Time after time this season, Free State High baseball players and coach Mike Hill have lamented the team's lack of offense.
The Firebirds' regional playoff game at College Boulevard Activity Center on Tuesday against rival Lawrence High was the exclamation point on those complaints.
LHS senior left-handed pitcher Garrett Cleavinger held Free State to three hits and struck out eight for a 4-0 complete game victory that ended the FSHS season.
Photo Gallery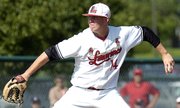 2012 Class 6A baseball semifinal: Lawrence High vs. Free State
Firebirds senior second baseman Tim Turner said it was frustrating to get shut out in an elimination game.
"It just kind of shows that we weren't the strongest team offensively," Turner said.
Fellow senior Montana Samuels said Cleavinger was "dealing," and there aren't many pitchers like him in the area.
"I've seen him pitch against teams that can hit a lot better than we have this year, and he was filthy today," Samuels said.
"I mean, yeah, it sucks that we couldn't get any (runs) across and we struggled at the plate, but we gave our best effort and he just gave us a better shot today."
Hill tipped his FSHS cap to Cleavinger and the Lions.
"They got a couple runs early that put us behind," Hill said, "and behind is certainly not where us, or frankly anybody else, wants to be in an elimination game."
Jake Vinoverski put Free State in a 1-0 hole in the first inning with an RBI triple off starting pitcher Jacob Caldwell. In the second, Trevor Champagne and Shane Willoughby hit RBI singles off Caldwell.
Lawrence scored its fourth and final run in the bottom of the third when Drew Green knocked a Sam Hearnen pitch over the right-field wall for a solo home run.
It was an all too familiar story, Samuels said, for the offensively challenged Firebirds (8-13).
"Those few, maybe one, two mishaps we have," the senior first baseman said, "we just can't get enough done offensively and that just kind of kills us."
Joe Dineen, Anthony Miele and JD Prochaska gave Free State its three hits.
But Hill said it wasn't as if Free State played poorly. Plus, the coach said the Firebirds improved much since an 0-5 start to the season.
"Our first five games, we didn't belong on the field with our opponents," Hill said. "And then we found a way to get better because we have kids who work hard."
Despite the struggles they endured, the coach remained proud.
"We've had a ton of success here and I'm sure it wasn't easy for them to experience an unusual losing season," Hill said, "but my goodness, they gave us everything they had."
Copyright 2018 The Lawrence Journal-World. All rights reserved. This material may not be published, broadcast, rewritten or redistributed. We strive to uphold our values for every story published.