Fenced in with nowhere to go, the two horses had nearly no chance of surviving.
"I just felt so outraged," said Dori Villalon, director of the Lawrence Humane Society. "Horrific case of cruelty."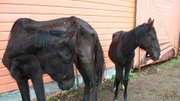 Villalon shows pictures of a recent investigation into a rural Douglas County ranch, where the owner, who could face animal cruelty charges, left the ranch and two horses behind several months back. Before a report to the Humane Society, the horses had been left to fend for themselves without food or water.
The photos of the horses — 5-year-old mother and her 1-year-old offspring — show bones protruding. The animals were so emaciated, Villalon said, their breed couldn't be determined.
The Humane Society has seen an increase in such horse abandonment cases in the area, which is also an increasing problem across the state and country. In 2011, the Humane Society responded to 13 cases of horse neglect or abandonment. In 2012, it has already responded to 12 calls.
Animal rights activists are scrambling to find temporary, and then permanent, homes for abandoned horses.
Karen Everhart, who runs Rainbow Meadows Equine Rescue and Retirement in Sedan, drove to Nevada this week to deliver a mustang that ended up at her ranch after it was abandoned.
Make the call
To report suspected animal abuse or neglect, call the Humane Society at 843-6835.
"We're over the top with horses," said Everhart, whose ranch can handle about 40 horses.
They're always full, and there's always a waiting list. A week doesn't go by, she said, that she's not contacted by an area sheriff's office trying to find a home for an abandoned horse.
Christine Mensch, owner of the Fox Eye Ranch northwest of Lawrence, blames the tight economic times for leaving families in a pinch and unable to come up with the roughly $2,500 a year it costs to care for a horse.
"It's all about the money," Mensch said.
Careless over-breeding has further glutted the horse market. Older horses and those that aren't show or breeding quality are difficult to find homes for.
"They bred and bred and bred," Mensch said.
For some owners unable to care for their horses, the answer is the "sale barn," where "kill buyers," as Mensch calls them, purchase horses at cut-rate prices: sometimes less than $100 a horse.
The horse meat will eventually be shipped overseas, but, before that happens, a horse can find itself in brutal and inhumane conditions, Everhart said.
More than 100,000 horses were slaughtered in the United States until 2007, when cuts to federal inspection funds eliminated legal horse slaughterhouses in the country. So today, horses must be shipped across the border to Canada or Mexico for slaughter. Often overloaded in poorly ventilated trailers, it can be a tough final trip for horses.
"This is the most egregious thing you can do to a horse," Everhart said.
Options
Inspection funding for horse slaughterhouses was recently reinstated on the federal level, and the practice may see a comeback in the U.S.
If it does, it presents a controversial option for unwanted horses in the country.
Many horse advocate groups decry slaughter entirely, citing inhumane conditions reported in horse slaughterhouses in the country before federal inspection dollars were cut.
"The worst answer is slaughter," Everhart said.
Villalon and Mensch, however, cautiously disagree, and both say domestic slaughter could help ease the current burden of horse overpopulation.
"I would prefer that we not have to slaughter horses," Mensch said. But "this is reality. You can't rescue all of them."
But there would need to be improvements to the slaughter process, such as those made in the cattle industry.
"As long as it's done in a humane way," Mensch said.
But there are ways to avoid slaughter altogether, and the main goal is to ensure horses aren't suffering, Villalon said.
She quickly brushes away arguments that the economy leads to poor animal care. There's simply no excuse for it, she said.
With a network of animal rights organizations in the state and area, Villalon encouraged anyone struggling to seek help sooner rather than later. Organizations can sometimes assist in matching unwanted horses with willing takers, or provide some form of hay or veterinary assistance.
"There are options out there," she said.
Copyright 2018 The Lawrence Journal-World. All rights reserved. This material may not be published, broadcast, rewritten or redistributed. We strive to uphold our values for every story published.