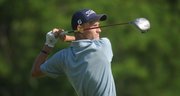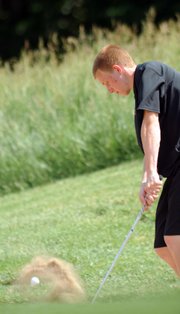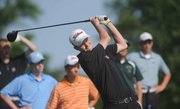 Free State High junior golfer Alex Green stood about 30 yards across from fellow junior Wilson Hack in the fairway of hole No. 2 Monday afternoon at Eagle Bend Golf Course.
Going head-to-head in a Class 6A regional sudden-death playoff, Green watched Hack's approach drop softly onto the green, about three feet from the hole.
"God-dang it, Wilson," Green yelled across the fairway.
Typical golf decorum wasn't much of a concern at that point for the Firebirds, who already knew their whole team had qualified for state by finishing second at the regional, with a season-best team score of 300 — seven shots behind champion Shawnee Mission East.
Green and Hack each shot 75, which tied Shawnee Mission Northwest's Collin Weems, forcing a playoff. Weems birdied the first hole to take sixth.
Hack's second shot on the second playoff hole set him up for birdie, and he beat Green for seventh.
"I figured I might as well go for it," Hack said, "because he's gonna make at least par."
Green had a 15-foot putt that could've tied Hack, but he missed it about an inch to the right.
"I had putts like that all day," Green said, "that I just couldn't make."
There wasn't much else for the Firebirds to gripe about following their best round of the year. With Hack, Green, Lee York (73, third) Colin Becker (77, tied for 10th), Max Soto (87, 23rd) and Hunter Dedloff (89, tied for 26th), FSHS coach Matt Gudenkauf said the team performed better than it had in the regular season. That allowed FSHS to earn a trip to Monday's Class 6A state tournament, at Garden City.
"That was pretty much our goal the entire year," Gudenkauf said. "The four guys that scored well today, at one (regular-season) tournament or another, scored well … but I couldn't get all four of them at the same time."
As regional hosts, Hack said the Firebirds wanted to play significantly better than they did the last time they hosted a tournament. They finished sixth on March 28 at the Free State Invitational.
"I think we all knew we were capable of shooting what we did," Hack said following the regional, "and I think we really showed that we are a team that can contend with Shawnee Mission Northwest (305, third) and teams like that."
Green said qualifying for state and having four top-10 finishers was an awesome accomplishment.
"Our score has shown that we have the talent to compete really well as a team," the junior said.
LHS sends four to state
Lawrence High didn't crack the top three in the team standings, which kept the Lions from sending their entire team to state. Despite their fourth-place finish (329), four LHS golfers had one of the top-five lowest individual scores among non-qualifying teams.
With golfers from SME, FSHS and SMNW occupying the top 14 slots, Connor Henrichs (80, 15th), Logan Henrichs (tied for 16th, 81) and Brett Van Blaricum and Narito Mendez (84, tied for 19th) were able to punch their tickets to state.
"We're excited," Mendez said. "We were hoping for a little better individual scores, though. We played all right, not really our best, though, for as much as we play out here."
Van Blaricum and Mendez had the highest scores among state qualifiers at the regional.
"I was right on the line," Mendez said of making the cut. "I got nervous when I saw the other scores."
An improved back nine salvaged Van Blaricum's round.
"I felt a lot of pressure today," the senior said, "especially after my horrible front nine (45). I was really mad at myself."
He was 13-over par heading into the 17th hole. Van Blaricum birdied the par-3 and figured he would still be in line to make the state cut if he bogeyed 18.
Though he began the 18th with a bad drive, he got back into the fairway and finished with a par 4. That's when someone told him 84 was the number he needed.
"I was so relieved," Van Blaricum said.
The 6A state tournament is Monday at Buffalo Dunes Golf Course in Garden City.
Copyright 2018 The Lawrence Journal-World. All rights reserved. This material may not be published, broadcast, rewritten or redistributed. We strive to uphold our values for every story published.