Margarete Johnson spends more than 300 hours a year in the butterfly garden tucked behind Foley Hall on Kansas University's West Campus.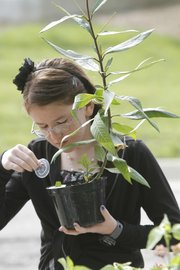 Expert spotting more Texas butterflies in Kansas this spring
Last Sunday, Chip Taylor tramped out to a wetland near his home, and there were hundreds of butterflies swarming the place: Question Marks, Red Admirals, Painted Ladies and American Painted Ladies.
The butterflies were from Texas, and there were tons of them. Kansas usually attracts Texas butterflies, but never this many, said Taylor, KU ecology professor and director of Monarch Watch. This spring alone, Taylor has spotted 13 species of Texas butterflies in Lawrence.
An unusual occurrence, the influx of butterflies is a product of extreme weather conditions working in tandem. For one, Texas experienced a 15-month-long drought of historic proportions, Taylor said. The drought killed a lot of predators and parasites that dramatically reduce butterfly populations.
Fall and winter rains followed the drought. This resulted in amazing spring vegetation: an oasis for breeding butterflies. And then the butterflies migrated here. One such butterfly is the Sleepy Orange, which Taylor says he usually sees two or three of a year. Taylor has spotted two or three Sleepy Oranges pollinating on the same plant this week alone.
"It's been a wonderful flush of butterflies one after the other," Taylor said. "This has been the best spring that I've ever seen for Texas butterflies in Kansas."
"Being there in the garden is like being in church on Sunday morning," she said. "It's healing."
The garden is usually still. But that wasn't the case Saturday, when the garden was teeming with more than just butterflies. Hundreds of people came out to Foley Hall for the annual open house and plant fundraiser hosted by Monarch Watch.
Monarch Watch is a KU program focused on conservation, education and research. This is the ninth year for the open house, the group's only fundraiser.
"It takes muscle to put all of these exhibits together, and I'm always worried that nobody is going to show up, or it's going to rain, or something disastrous is going to happen," said Chip Taylor, director of Monarch Watch.
But hundreds of people historically flock to the event. Among them was Kari Koester, of Lawrence, who came with her three daughters, ages 1, 4 and 9, and her mother, Kathy Schaderer, who had traveled from South Dakota.
"The kids love it," Koester said. "There's always something for them to do."
Last year, Koester bought milkweed, caterpillars and a chrysalis. She designated a small patch of her home garden as a butterfly sanctuary, planting milkweed and mint. The milkweed sprouted again this year. And now little white butterflies are fluttering around her flowers.
Monarch Watch was selling butterfly-friendly plants at the open house. Milkweed and nectar plants were available to help people transform their balcony, rooftop or backyard gardens into monarch way stations, habitats fitting for monarchs.
One of Monarch Watch's main initiatives is its way-station program, which focuses on increasing the number of butterfly-friendly environments. The program has helped launch more than 5,400 since it started in 2004.
Johnson, of Lawrence, is a master gardener whose personal garden is also a certified way station. Her home garden is large and draws in lots of butterflies. But she still spends much of her time at Monarch Watch. She spotted the first monarch of the season April 8 while gardening in the Monarch Watch way station. And she thinks other people would enjoy the garden as much as she does.
"You should come sit … watch the butterflies, have your lunch," she said. "Just enjoy yourself."
Copyright 2018 The Lawrence Journal-World. All rights reserved. This material may not be published, broadcast, rewritten or redistributed. We strive to uphold our values for every story published.