One of the smallest players on the field Thursday night at Hoglund Ballpark, Lawrence High senior second baseman Trevor Champagne might not strike fear in the hearts of many opposing pitchers.
Photo Gallery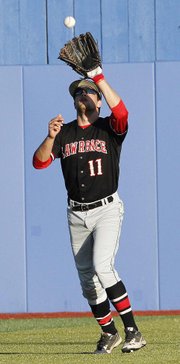 Lawrence High vs. Free State baseball (Game Two)
The diminutive eight-hole hitter, however, played a colossal role in the last three innings of the city baseball showdown as the Lions rallied from behind to close the regular season with a 7-4 victory over rival Free State.
LHS trailed 3-1 through four innings before Champagne helped incite a comeback, with two hits, an RBI and a run in the final three innings.
His perfectly placed drag bunt down the third base-line with one out in the top of the fifth, Lawrence coach Brad Stoll said, was exactly what the team needed.
"That seems to kind of change some momentum. That's just the kind of player he is," Stoll said of Champagne. "He's the kind of kid that makes things happen."
The bunt single led to a two-out, two-run double from Troy Willoughby that tied the game, 3-3.
Though the Firebirds (8-12) regained the lead momentarily in the bottom of the fifth thanks to an Anthony Miele RBI single, Champagne was at the plate for Lawrence (12-8) when it took the lead for good. First, LHS courtesy runner Adam Rea scored on a wild pitch by FSHS reliever JD Prochaska to tie the game at 4. Then Champagne grounded out to third baseman Cameron Pope, with speedy senior CJ Roush 90 feet from the plate. Pope looked Roush back to third, then fired to first for the out. That's when Roush took off for home, sliding in safely to give the Lions a 5-4 lead.
"You can't teach somebody how to run fast," Stoll said of the senior center fielder. "He is an incredibly gifted athlete. He can fly. He's a cheetah."
Roush, who went 2-for-3 with an RBI, was just happy to contribute after an injury benched him for Lawrence's 3-1 defeat of FSHS three days earlier.
"It was pretty hard not being able to play at LHS one last time as a Chesty Lion," Roush said.
The top of the sixth seemed to negate all the positive things Free State had done in the first few innings. LHS senior Matt Sutliffe reached on an error, and after Roush singled, another error allowed CJ Stuever to reach base safely. By the end of the night, much to Firebirds coach Mike Hill's dismay, Free State had committed four errors and given up a total of five runs with two outs.
"We controlled the ballgame. It's our ballgame," a disgusted Hill said after the game. "Mistake after mistake after mistake after mistake. You can't keep giving a good team outs, and we did. The four errors were huge, absolutely huge."
Prochaska struck out four Lions and gave up five hits in 22⁄3 innings — starter Jacob Caldwell threw two innings and reliever Sam Hearnen threw two-plus. After taking the loss, Prochaska said the final three innings, in which Lawrence outscored Free State 6-1, were troublesome.
"It was just tough all over," Prochaska said. "We got some ground balls, didn't make some plays and kind of fell apart and just couldn't bounce back in the seventh."
Added Hill: "I'm not sure we competed very well tonight."
The Lions' lead was just 5-4 in the top of the seventh and Prochaska fanned the first two batters he faced before walking two straight and giving up RBI singles to Roush and Champagne.
Junior LHS relief pitcher Shane Willoughby closed out FSHS in style. He entered with a one-run lead in the middle of the sixth inning and struck out four of the six batters he faced, registering 88 mph on his fourth strikeout.
Shane picked up the save as his older brother, Troy, earned the win with three innings of work on the mound (Cameron Solko started and pitched just two innings).
Stoll gave Free State credit for taking a 3-1 lead in the second, when Pope and Caldwell produced RBI singles and Miele scored on an error. But the LHS coach was proud the Lions didn't fold.
"Then the Willoughby brothers came in and did what we expected them to do," Stoll said.
While the Lions' sweep of FSHS in the city showdown this week gives them three wins in four games entering the postseason, the Firebirds have lost six of their last seven.
Copyright 2018 The Lawrence Journal-World. All rights reserved. This material may not be published, broadcast, rewritten or redistributed. We strive to uphold our values for every story published.