The Lawrence school district's reaction to three senior boys giving underclassmen buzz cuts was a bit of a buzzkill, parents claim.
Last weekend, three senior boys gave their younger brothers and their brothers' friends what they called "goofy haircuts" in a private home. The boys said they had the underclassmen's permission and their parents' approval before shaving unusual patterns into their heads.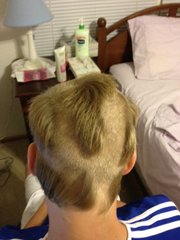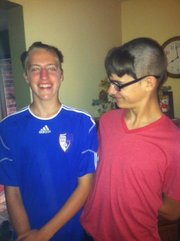 On Monday, Mike Fangman was shocked to find out that his son Simon, Simon's friend Logan Henrichs and one other senior were punished with three days of out-of-school suspension and one day of in-school suspension for the incident.
Simon's offense was shaving the heads of his younger brother Jared and one of Jared's friends. Fangman called the school's reaction "heavy handed."
And, he questioned how this activity was any different than sports teams who get uniform haircuts to show team unity or students who participate in a school's wacky hair day, all events that haven't merited discipline.
In his talks with the school administration, Fangman said he was told the action was taken following a parent complaint. But, he said, he isn't sure who that parent would be since all seemed OK with their sons' haircuts.
Fangman believes the administration overreacted because of a Senior Week tradition in years past where upperclassman would chase down younger students and give them haircuts against their will. The father doesn't dispute that the haircuts were given in the spirit of the Senior Week tradition. However, he said it didn't have the element of hazing or bullying associated with it.
In an email written to LHS Principal Matthew Brungardt, Kim Henrichs, the parent who was home when the haircuts were given, noted that the underclassmen were laughing and talking about posing for group pictures afterward.
"This was not a reckless event where people were chased down against their will or restrained or taken off guard," he wrote. "All participants willingly drove themselves to our house."
Henrichs' son Logan was punished for giving his younger brother Connor a haircut.
"It seems a bit invasive that our whole family was comfortable and accepting of what occurred with Logan and Connor but the school sees fit to impose its judgement over ours," he wrote.
District stance
Lawrence High School isn't the only one that has suspended students for hazing. Last week, Free State High School took disciplinary action against five senior boys for violating the district's hazing policy. Details about that incident have yet to emerge.
On Thursday afternoon, the school district issued a statement in response to the incident.
"Lawrence public schools are committed to maintaining an environment free from hazing. Our schools clearly communicate expectations surrounding the hazing policy to all students," Superintendent Rick Doll said in the media statement.
According to district policy, hazing is an act that "recklessly or intentionally endangers the mental health, physical health or safety of a student" to attain membership or affiliation with a district-sponsored activity or grade level attainment.
The district policy states those acts include:
• forced consumption of any drink, alcoholic beverage, drug or controlled substance;
• forced exposure to the elements;
• forced prolonged exclusion from social contact;
• forced deprivation;
• assignment of pranks or other activities intended to degrade or humiliate.
The district also noted it wouldn't discuss specific student disciplinary matters or comment on the matter further. The district did not release any of the students' names, but Fangman and Henrichs agreed to talk to the media.
Private property
Fangman said what the district neglected to state was that the policy pertains to school property, school vehicles or a school-sponsored activities or events. None of that applies in this case, he said.
Fangman said he isn't interested in pushing the issue further, but he would like the incident taken off his son's record.
"We just want the district to clear the records of these kids so we can move on to graduation and on with their lives," he said.
As for the actual "crazy haircuts," it appears that they had a shorter life than the controversy surrounding them. Fangman said that after Jared had the chance to show off his new 'do on Monday, he took out the clippers that evening to give his son an even buzz cut.

Copyright 2017 The Lawrence Journal-World. All rights reserved. This material may not be published, broadcast, rewritten or redistributed. We strive to uphold our values for every story published.