Photo Gallery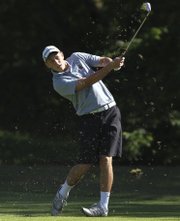 Lawrence Invitational Golf
Alvamar Golf Course might not be the Free State High boys golf team's home stomping grounds, but junior Alex Green knows the course well enough to give guided tours.
A member at Alvamar, Green entered Wednesday's Lawrence Invitational feeling relaxed.
He thought: "Why not just play it like I do every day?"
By the time all the score cards were handed in, Green's 72 stood as the second-best round at the tournament, just two strokes behind champion Chase Hanna of Shawnee Mission East.
"This is my course," Green said after shooting even par. "This is my bread and butter."
His familiarity showed with a strong start, as the Firebirds' top golfer went par, birdie, par on his first three holes. Green had a couple bogies on the front nine, which frustrated him. But when he finished the front at 1-under, he thought he might break 70. A couple more bogies on the back nine prevented him from pulling off that feat.
"If I would've made some more putts within 10 feet, who knows what I could've shot," Green said. "But overall it was a great day."
Green's 72, the best score among city golfers by eight strokes, helped him finish sixth overall in the Sunflower League's season standings. FSHS coach Matt Gudenkauf said Green had an outstanding day, bouncing back from an 82 on Monday at Leavenworth.
"He has had a great season," Gudenkauf said. "And it's about time that he shot what he's really capable of."
As a team, the Firebirds finished 10th at the invitational with a score of 319 — 25 strokes behind champion SME. Lee York and Colin Becker each posted an 80, while Wilson Hack and Max Soto both finished at 87 strokes. Hunter Dedloff shot an 88.
"They left a lot of shots out there," Gudenkauf said.
Lions finish 15th
Lawrence High, playing on its home course, couldn't keep up with Free State. The Lions' 339 team score (15th place) was 20 strokes behind the Firebirds.
For the second tournament in a row, LHS was without its No. 1 golfer, senior Logan Henrichs. LHS coach Dirk Wedd said Henrichs was unable to play due to disciplinary action at the school.
With their teammate out, the rest of the Lions were bumped up a slot. Brett Van Blaricum played as a No. 1, Cole Cummins became No. 2, Narito Mendez was No. 3, Connor Henrichs served as No. 4 and Taylor Grob and Nick Andrews rounded out the Lawrence lineup.
Though they were playing in better groups than usual, Cummins and Connor Henrichs each shot 83.
Connor Henrichs, a sophomore, said it wasn't unusual for Cummins, a junior, to play that well. He couldn't say the same for himself.
"I've been struggling lately, or pretty much throughout this whole season with golf," Connor said. "So this was nice today."
Cummins was happy to see Connor Henrichs have some success and couldn't complain about his 83, either, considering this is his first year on the team.
"I feel like I could've shot a lot better," Cummins said, "but it's not awful."
Van Blaricum finished with an 86, and Mendez shot an 87. Andrews finished at 102 and Grob at 109.
Cummins said Van Blaricum just had an off day.
"He's usually our most consistent player," Cummins said. "It was a big surprise."
Wedd said each of Lawrence's golfers had to adapt to their new roles, without Logan.
"It's hard when you're used to playing (as number) two or three," the coach said, "and all of the sudden you're playing one or two."
Both Lawrence and Free State will compete in a Class 6A regional tournament Monday at Eagle Bend Golf Course.
Copyright 2018 The Lawrence Journal-World. All rights reserved. This material may not be published, broadcast, rewritten or redistributed. We strive to uphold our values for every story published.