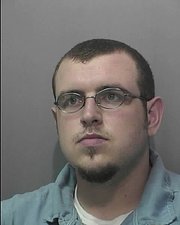 Ottawa police are searching for a 26-year-old man accused of kidnapping a woman on Saturday and taking her to Emporia against her will before she escaped from him.
Lt. Adam Weingartner, an Ottawa police spokesman, said Tuesday that authorities had recovered a vehicle stolen from the woman in Morris County and that officers were still looking for Jordan J.A. Henson. He is accused of taking the 32-year-old woman from her Ottawa residence in the 600 block of South Walnut Street during a domestic incident.
He's also accused of taking money from her and stealing her vehicle as he drove her to Emporia.
The woman escaped from him in Emporia, and police there assisted her about 9:20 a.m. Saturday. She suffered minor injuries in the incident.
Henson is described as a white man, 6 feet tall, 260 pounds, with brown hair, hazel eyes and possibly wearing wire rim glasses.
Anyone with information should call local law enforcement. Anyone with information in the case can call Ottawa police detectives or Franklin County Crime Stoppers at 1-888-311-TIPS (8477).
Copyright 2018 The Lawrence Journal-World. All rights reserved. This material may not be published, broadcast, rewritten or redistributed. We strive to uphold our values for every story published.