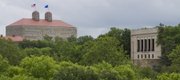 Subscribe to the email edition of Heard on the Hill and we'll deliver you the latest KU news and notes every weekday at noon.
Your daily dose of news, notes and links from around Kansas University..
• The Arizona Republic mentioned a KU plagiarism case that's been mentioned a lot since news of it first broke in October 2011.
If you're not familiar with KU's case, you can go brush up by reading the old stories.
One thing that the Arizona Republic points out is that these sorts of issues don't always come to light as they did at KU. The only reason I knew about it is because some great Heard on the Hill tipsters pointed me to a censure notification. And that got me thinking again about the whole censure process.
The chancellor has to approve every censure notice. Bernadette Gray-Little has approved four such censures of faculty members since December 2010. Robert Hemenway, in his 14 years as chancellor, didn't approve any. Of course, with access to personnel records the way they are, I can't say one way or the other how many Hemenway denied or if he just didn't believe in the process.
And I also noticed that KU's Faculty Senate Executive Committee was taking notice how a censure notification might affect a faculty member differently today than it did 20 years ago.
Today, such notification might get a professor's name in Heard on the Hill, for example, where all the world (and the Arizona Republic) can see it if they want to.
Rodolfo Torres, faculty senate president, according to the minutes of a recent meeting, also noticed that change and said that the committee was concerned that sanctions should be commensurate with the offense.
"He noted that in the past, a sanction of Censure would be posted in the Oread (the faculty and staff newsletter that's been replaced by a KU Today daily email) and just a small number of people would know about it," the minutes read. "Now, everything is online and people all over the world may know when a faculty member is formally sanctioned, and the information can remain in the virtual world of the internet for a very long time after the sanction took place."
The discussion looked like it was of a more general nature, and not about the specific case of plagiarism.
• Once upon a time, KU contracted with an Overland Park professional energy solutions company named (conveniently enough) Energy Solutions Professionals to perform $25 million in energy improvements in the hopes of saving $2 million per year.
As part of that contract, the company also said it intended to initiate a program that would be expected to generate energy savings through behavioral changes.
(The $25 million was paid for in bonds that the company guaranteed would be paid back.) Much of that work has now been done, and we're waiting to see the results.
But we do have the results of the behavioral bit that took place recently. It took the form of a 12-week energy-savings challenge between Bailey Hall, Green Hall and Summerfield Hall.
Students, faculty and staff in Bailey Hall won the prize (a barbecue lunch) by saving 17.2 percent over the 2011. Green Hall saved 15.6 percent, and Summerfield Hall saved 11.1 percent. The savings were calculated by comparing actual weekly usage to a baseline level from 2011.
• A popular event in years past is back again this year. Kansas University's Monarch Watch program has scheduled its annual spring open house and fundraiser for Saturday.
The event is scheduled from 8 a.m. to 3 p.m. Saturday at Foley Hall, 2021 Constant Ave., on KU's West Campus. Nearly 4,000 butterfly plants will be available for modest contributions. The plants are designed to help start butterfly gardens.
Games for children will be available, along with other monarch butterfly and bee exhibits and videos.
A list of plants, along with a whole bunch of other information, is available online here.
• What I'm looking for is a fundraiser that sells plants that attract tips for Heard on the Hill. Until I find some of those plants, you'll just have to keep sending me tips the old-fashioned way at ahyland@ljworld.com.
Copyright 2018 The Lawrence Journal-World. All rights reserved. This material may not be published, broadcast, rewritten or redistributed. We strive to uphold our values for every story published.