Thanks to the Kentucky Wildcats' men's basketball team, Gov. Sam Brownback made a visit Tuesday to the Lawrence Community Shelter.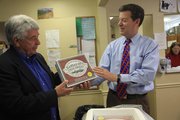 Paying up on a bet with Kentucky Gov. Steve Beshear over the outcome of the NCAA National Championship, Brownback delivered 120 Kansas steak burgers to the shelter, in addition to shipping a few hundred to the Bluegrass State, where it also will be served to the needy.
"I'd rather be delivering Kentucky ham," Brownback said. Had the Jayhawks proved victorious, Beshear would have shipped ham to Kansas instead.
"Folks are going to eat well tonight," said Brownback, presenting the Kansas City Steak Co. burgers, donated with assistance from the Kansas Beef Council.
Brownback's visit was widely anticipated at the shelter.
"They think it's a kick," said Loring Henderson, shelter director. "They've been cleaning up."
Henderson gave Brownback a tour of the facility, and emphasized the challenges the shelter has faced with constant overcrowding.
"I want him to get sense" of the shelter, Henderson said. Frequently, 100 or more people seek shelter every night, so overflow space is used when the need exceeds the 75-bed capacity. The shelter will move to a larger site, near Douglas County Jail, in the fall.
Though the 30-minute visit did not incorporate a question-and-answer session with residents, the question shelter resident Stephanie Suggs, 30, would have asked: "Is he going to stand with the homeless?"
Randy Kinney, 53, also a shelter resident, had a similar question: "What's he going to do about the homeless problem?"
Throughout the visit, Brownback said he had valuable discussions with Henderson about what is needed to help the growing homeless population, including transitional housing and community-based health centers.
"The basic needs are being met," said Brownback, who said he's visited shelters in Topeka and Wichita since becoming governor. "But it's not enough."
Brownback also toured the Lawrence Interdenominational Nutrition Kitchen across the street, where meals are served to the needy. At the end of his visit, Brownback applauded the efforts of the shelter.
"What they're doing on the resources they've got, they're doing an incredible job," he said.
Copyright 2018 The Lawrence Journal-World. All rights reserved. This material may not be published, broadcast, rewritten or redistributed. We strive to uphold our values for every story published.