Photo Gallery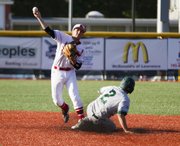 LHS vs. FSHS baseball (Game 1)
Lawrence High baseball coach Brad Stoll probably didn't have to say anything to senior starting pitcher Garrett Cleavinger before the Lions' Senior Night game Monday against rival Free State.
The LHS coach did anyway, telling his ace left-handed hurler the city showdown was his stage.
"He kind of looked at me like he was gonna knock me out if I took him out of the game," Stoll said of the strong-armed Cleavinger.
The Lions' coach never had to test the southpaw's patience or punch. Cleavinger surrendered just three hits and struck out nine Firebirds for a 3-1 complete-game victory in his final home appearance at LHS.
Cleavinger took it upon himself to deny FSHS any chance of celebrating on Lawrence's home field.
"It was nine of our guys' last game here," Cleavinger said of the Lions' graduating seniors, "so it's obviously important to all of us. Me being a pitcher, and being a senior pitcher, you don't want to come out. You want to make sure you're doing everything you can to help your team win."
Lawrence (11-8) had just enough to back Cleavinger as he dueled the Free State pitching trio of sophomore Ryan Cantrell and juniors Jacob Caldwell and Sam Hearnen, who each threw two innings apiece and combined to yield just three hits.
The rivalry game was tied, 1-1, through 41⁄2 innings. Firebirds starter Cantrell and Caldwell had combined to retire 12 straight LHS batters before Lions sophomore catcher Drew Green delivered an opposite-field single to open the bottom of the fifth against Hearnen.
Green's courtesy runner, Adam Rea, advanced to second when Cleavinger grounded the ball to FSHS third baseman Cameron Pope, whose throw to second for a force was dropped. With two on and no outs, Lawrence senior Trevor Champagne moved the runners over with a sacrifice bunt.
LHS senior Landon Hay squared to bunt when a wild pitch allowed Rea to score, giving Lawrence a 2-1 edge.
After Hay grounded out to Hearnen, sophomore Kieran Severa knocked in Cleavinger with a single to give the Lions a 3-1 lead.
As coach Mike Hill has said before of his Firebirds (8-11), offensive struggles placed enormous pressure on their defense and pitchers to be perfect, which isn't possible. Hill said even professional baseball players make mistakes.
"The few that we make," Hill said, "get magnified because of where we are offensively."
Free State's only run came in the top of the third. With one out, Cleavinger walked Joel Spain and Montana Samuels back-to-back. Junior Lee McMahon capitalized on the walks with an RBI single to center field that tied the game, 1-1.
Pope said the two-run loss was frustrating.
"We've had a lot (of similar games) this year," the sophomore said. "It's the same thing over and over."
Samuels said there wasn't much difference between the two rivals.
"It's just a matter of executing on offense," Samuels said. "They (LHS) executed that one inning when they had guys in scoring position, and we didn't. And that was the difference in the game."
Hill said the Firebirds have to be better offensively. The coach pointed to the top of the first, when Cleavinger caught Joe Dineen on the move. The pitcher threw to first baseman Matt Sutliffe, who quickly got the ball to shortstop Troy Willoughby at second for the pick-off tag.
Plus, FSHS had runners on first and third with one out in the third before Cleavinger struck out Anthony Miele and got JD Prochaska to pop out.
"We had a couple opportunities to get something going there," Hill said, "and we don't."
Lawrence jumped to a 1-0 lead in the bottom of the first. Shane Willoughby doubled to the right-field gap for what proved to be the game's only extra-base hit. Junior CJ Stuever moved him to third with a groundout, and senior Troy Willoughby drove his younger brother home with a sacrifice fly to center.
Shane said the Lions had hoped for more offense, but three hits did the job.
"We knew Garrett was gonna deal, and he did," Shane said of Lawrence's ace. "We got him three runs, and if we get Garrett Cleavinger three runs, we'll win."
The Lions and Firebirds square off again in the regular-season finale for both teams at 7 p.m. Thursday at Kansas University's Hoglund Ballpark.
Copyright 2018 The Lawrence Journal-World. All rights reserved. This material may not be published, broadcast, rewritten or redistributed. We strive to uphold our values for every story published.