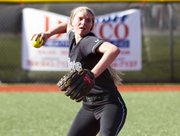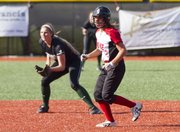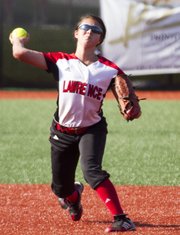 Monday afternoon at Lawrence High, the LHS and Free State High softball teams stumbled into as many errors as hits, Free State's ability to capitalize on the miscues led the Firebirds to a 3-0 victory and a season sweep of the Lions.
"Today was ugly," Free State coach Lee Ice said. "But we'll take it. Sometimes you have to win ugly."
Despite not picking up a hit in the top of the first inning, the Firebirds took a 2-0 lead when A'Liyah Rogers and Remington Samuels each scored after reaching base via a walk and hit-by-pitch to open the game. Rogers scored on an error, and Samuels scored on an RBI groundout by FSHS catcher Courtney Parker.
In the bottom of the inning, the Firebirds (11-7) did their best to give those runs right back by committing three errors behind starting pitcher Meredith Morris.
Lawrence's Kenzie Garvin and Marly Carmona each reached base after Free State errors, and LHS appeared to have runners at first and second with no outs. But after a late throw allowed Carmona to reach first base safely, Garvin was called out after rounding the bag and diving back into second base too late. LHS coach Nick Wood immediately charged the field to argue the call, but the second-base umpire said the tag beat Garvin to the bag.
"That could've been a game-changer," Carmona said.
LHS (5-15) never really threatened after that. Morris (6-4) allowed just two hits — both to Sami Buffalomeat — and struck out two. After seeing her defense commit four errors in the first two innings, Morris benefited from some spectacular defensive plays the rest of the way, particularly from Rogers in right field. The junior speed demon made two diving grabs and recorded five putouts.
"I've just always felt that if there's an easy out, go get it," said Rogers, who made a couple of very difficult catches look easy. "I don't see any reason to let the ball drop."
Wood said that attitude, on defense and at the plate, propelled Free State to victory.
"We needed to find a way to get as many base runners as we could," Wood said. "And in the first couple innings, we did that. Unfortunately, we didn't drive those runners in, and when Free State got their chance, they delivered."
Neither team recorded a hit until the fourth inning, the first coming off the bat of Morris, who reached on an infield single to the left side.
Even that one was scooped up by sensational LHS shortstop Carmona, who seems to get to everything, but she was too deep in the hole to make a play.
Morris picked up two of the four Free State hits and an RBI, and Parker's double in the sixth and Summer Frantz's single in the seventh — which Carmona fielded behind the bag at third — rounded out Free State's offensive production.
Both teams left LHS feeling good about their effort Monday, but only won team enjoyed the result.
"It's kind of disappointing," Carmona said. "But I feel like we stepped up and played way better than we did against them in the first game (an 8-1 loss at FSHS two weeks ago)."
Said Parker of topping LHS for the second time this season: "It feels great. I expected us to get more hits, and I knew they had a good chance to come back all game. But I was pleased that our errors didn't lead to more errors. We pulled it together."
Added Ice: "We were pretty fortunate today."
Monday's game wrapped up the Lions' regular season. LHS now will await its draw in next week's postseason. The Firebirds will close the regular season Thursday at Shawnee Mission South.
Copyright 2018 The Lawrence Journal-World. All rights reserved. This material may not be published, broadcast, rewritten or redistributed. We strive to uphold our values for every story published.