R.J. McDonald picks up a full tube of lithium grease and says this is going to make somebody's day.
That stuff is expensive, you know — unless you're shopping here. Today, lithium grease is free. Same for a whole gallon container of Brasso cleaner, although McDonald doesn't think that is worth advertising.
"If you have ever been on the business end of Brasso, you wouldn't be so excited," he tells a fellow shopper.
But what about charcoal lighter fluid, Windex cleaner, floor tile adhesive, windshield de-icer, brominating tablets (my heavens, those sound expensive), Liquid Plumber, Calgon, Turtle Wax (in case your turtle is in the rain), hardwood floor refresher, and some liquid in a bottle called Japan Drier (not recommended for the wet turtle)? How much is all of that, you ask? Free.
And how about paint? Jeez, you've got to be kidding. Why would you ever spend money on paint? Sure, if you have one of those picky spouses who wants a particular color, you might have to buy some paint at a paint store. But if you just want paint, we've got enough paint here to fill the gutters.
But we wouldn't, of course. That's kind of the whole point of this store. Here at the Lawrence-Douglas County Household Hazardous Waste facility, these items are on the shelf — and all free — because local leaders want to keep them out of the dump.
"Our philosophy is, if you can use it, you can have it," said Tom Hogan, a waste reduction and recycling specialist for the city.
But first, you have to find it. And these days, just finding the Lawrence-Douglas County Household Hazard Waste facility may be a bit difficult. The facility is located in the Douglas County Public Works facility along 23rd Street, immediately east of the Haskell Indian Nations University campus.
But work to replace the 23rd Street bridge adjacent to the facility already has blocked the main entrance to the facility, and visitors are required to take a winding detour. The work is expected to affect the facility for the next several months, but city officials said it will remain open this summer and advise customers to look for signs in the construction zone that provide directions to the center.
McDonald said he's glad the facility will remain open, although he doesn't necessarily care if others find the location.
"I don't want everybody knowing about my honey hole," McDonald said.
Leave some, take some
Lawrence and Douglas County residents have known for years about the household hazardous waste program. It is designed to take a variety of products that officials want to keep out of the landfill, either because they create an environmental hazard or in many cases create a fire hazard when they're thrown into the back of a trash truck.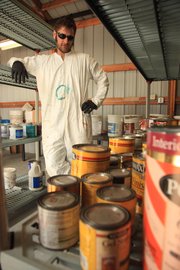 The operation typically collects about 180,000 pounds of hazardous waste that otherwise would go to the landfill, get illegally dumped, or continue to sit in your garage.
But Hogan said people often are surprised to learn that about 25 percent of all the material collected is put on the shelves of the facility's re-use store, which is located in a small metal building adjacent to the drop-off site.
"For a lot of these items we take, the ideal way to dispose of them is to use them for the purpose they were made for," Hogan said.
Shopping at the store works the same way dropping off an item does. It is by appointment only. Any Douglas County resident can schedule an appointment by calling 832-3030. There is no charge for households to drop off waste. Businesses are charged a fee, depending on the item.
But everyone — individuals or businesses — can shop at the store for free. Hogan said the store has several regulars, including Habitat for Humanity, theater groups and other nonprofits.
"We tell people to come back often because the inventory is always changing," Hogan said.
Paint the town red
Paint, though, is always a good bet to be found on the shelves. Latex paint is the No. 1 item dropped off at the facility, and during last week's visit there were about 45 one-gallon cans of paint, most of them full and many of them brand new.
"People just overbuy on paint, and it ends up here," McDonald said.
(Red, by the way, seemed to be a popular color on the shelf, which should tell you something about those crazy cable TV hosts who insist painting your dining room wall red is a good idea.)
Some colors are what you would call a custom blend. About once a month, Hogan and others take one-gallon cans that have just a bit of paint in them and mix them in five-gallon buckets to create a uniform color.
"We do try to mix colors that we think people actually will use," Hogan said.
On a visit last week, the store had about 10 five-gallon buckets of paint ready for the taking.
Automotive products are among the items to fly off the shelves the fastest, Hogan said. A surprising number of people bring in unopened bottles of motor oil, antifreeze and brake fluid.
Hogan said the facility receives all kinds of items that are expensive enough that you wouldn't think people would throw away. But he said that people often bring it into the facility when they're moving, many times because moving companies refuse to haul many types of liquid products.
Not safe for re-use
Not every product received at the facility, of course, goes on the shelves. The 1960s-era bottle of Weed B Gon that recently came through the door, for instance, isn't a candidate for re-use. In fact, it will be one of the more expensive items for the facility to dispose of. Because of the cancerous dioxides in such old pesticides, it costs the facility $2,500 per 55-gallon drum to have a company ship the waste to an incinerator.
"It is scary how many 50- to 60-year-old pesticides are still sitting in people's garages," said Shawna Trarbach, a waste reduction and recycling specialist who works at the facility.
The children's toy maze — the handheld game where you try to navigate the marble through the maze — also won't go on the shelf. Why not? Because the marble actually is a bubble of mercury. At some point, they decided mercury wasn't the best thing to put in children's toys.
There are plenty of other items, too, that are destined to be shipped off by a hazardous materials company. An old glass-bottle fire extinguisher designed to be thrown like a grenade at a blaze is on that list. Sounds cool, but the chemicals inside are about as dangerous as the flames they're designed to fight.
Then there are more mundane items: old batteries, opened packages of mothballs, and even a coffee can full of cooking grease that won't go on the shelves.
Although, the grease may be negotiable. They say it makes for a shiny coat. Might as well ask. The price would be right.
Copyright 2018 The Lawrence Journal-World. All rights reserved. This material may not be published, broadcast, rewritten or redistributed. We strive to uphold our values for every story published.