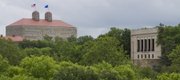 Subscribe to the email edition of Heard on the Hill and we'll deliver you the latest KU news and notes every weekday at noon.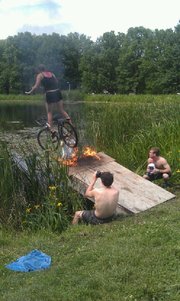 Your daily dose of news, notes and links from around Kansas University.
• While walking on campus on Friday, I happened on one of those little moments that ensures that walking around a college campus is never dull.
A small group of students had come up with an inventive way to celebrate Stop Day. Namely, they were taking bikes up to the very top of the hill near Memorial Drive, and then were riding them down the hill to a ramp, and then jumping into Potter Lake.
Oh, and also, they were using lighter fluid to light the ramp on fire. A good way to get a reporter's attention is to set something on fire and then use it to leap into Potter Lake.
They called the whole thing "Ramp Day," and said it had been going on each year for about six years. Adam Lauridsen, a senior from Lawrence, said the tradition involves a group of friends who live in a house they call the "Mountain Dewd" house, now on Mississippi Street.
The group of friends (Lauridsen said the most famous of them — by far — was former KU basketball player Christian Moody) were all of the Christian faith and were looking for ways to have fun responsibly. The fire was relatively well-controlled, after all.
At first, the group had "Float Day" where they all used floatation devices to swim in Potter Lake. And wasn't that gross, especially before the lake was dredged?
"It was super gross," Lauridsen confirmed for me. "And it smelled bad."
It's a little better these days, he said. The fire came along after it was generally decided that a plain old ramp was a little too boring.
They attracted the attention of retired French Professor Ted Johnson's Stop Day Walking Tour crowd, and a few workers from Strong Hall as well. As I said, I guess flaming ramps will do that.
• I tagged along for part of that walking tour on Friday, and learned more than a little bit about little hidden things all over campus.
I'll be writing a bigger article later for our annual KU Today edition that comes out in August.
But I did learn more than a few little things about the campus by looking closely.
There's that little elephant up on Dyche Hall with "Rock Chalk" carved on its belly. And the small marker I'd never seen between Fraser Hall and Blake Hall, near The Pioneer statue in the area.
"Site of barracks and trenches, 1863," the marker reads.
That year, you may recall, is the year of Quantrill's infamous raid on the city.
I'd never known that the area was used for that purpose. We also noted the nearby chancellor's residence.
"It's called The Outlook because it was" an outlook to keep tabs on raiders marching on the city, Johnson said.
Look for more on the tour later this summer.
• Marla Herron, senior associate registrar at KU, is one of five candidates for the university registrar's position at Iowa State University, according to the Iowa State Daily.
She participated in an open forum there last week, and outlined her plans for the position for an audience of about 25 people.
The registrar, for those who might not know, handles all sorts of applications and forms, including being responsible for the awarding of degrees and the issuing of transcripts.
Other open forums will be held for the position at Iowa State all this week.
• I get a thrill a little like riding a bike off a flaming ramp every time you submit a tip for Heard on the Hill to ahyland@ljworld.com.
Copyright 2018 The Lawrence Journal-World. All rights reserved. This material may not be published, broadcast, rewritten or redistributed. We strive to uphold our values for every story published.