The Sunflower League girls swimming championships don't start until this afternoon at Lawrence Indoor Aquatic Center.
That didn't make Friday night's prelims any less stressful for some swimmers from Lawrence and Free State high schools.
Only the top six times in each prelim qualified for the championships. Seventh through 12th meant a spot in the consolation finals. Anything less, and a swimmer was done.
Firebirds freshman Eliza Anderson said the prelims had a way of making swimmers more nervous than they would be at a regular-season meet.
"I think there's more anxiety," Anderson said, "just to make finals, so you can score in the finals."
Photo Gallery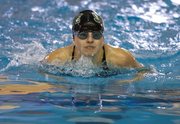 2012 Sunflower League swimming preliminaries
Her fifth-place finish in the 200 free got her one of those coveted championship spots.
"I'm certainly really excited about being able to swim top-six," Anderson said, "and the team is excited about scoring points."
Lions sophomore Annie Odrowski experienced both sides of the championship cut. She took sixth in the 200 IM and seventh in the 500 free.
"You want to get top six, and it's so hard," Odrowski said.
In the longest race of the evening, Odrowski's 500 time (5:31.61) was just four hundredths of a second behind the sixth-place time of Olathe East's Samantha Laflin.
"It's really frustrating," Odrowski said, "but you can't let those derail you from what's really important."
Lawrence junior Miranda Rohn left the prelims embittered after missing out on the championships in her individual races. The 100 free finish really irked Rohn, who took seventh and was eight hundredths of a second behind the sixth-place time (56.6) of Lanie Leek, Shawnee Mission East.
"Everyone's going so much faster," she said of league competitors, compared to a regular-season meet.
For Rohn, the weight of prelims stress increased with the timing of the meet, which was just days before some of the biggest tests of the year in her LHS course load. She had a strategy for clearing her mind before she dove into the water, though.
"I try not to pay attention to the results as they happen," Rohn said, "because I psych myself out a little bit before my race."
City swimmers finished first in six of the 11 Friday prelims.
Taking first place for Lawrence were: Heather Cistola (200 free, 500 free) and the 200 medley relay team of Miranda Rohn, Gretchen Frick, Cistola and Odrowski.
The Firebirds also had three event-winners: Courtney Caldwell (50 free, 100 free) and the 400 free relay team of Anderson, Morgan Miller, Lucy Sirimongkhon-Dyck and Caldwell.
FSHS had six other top-six finishes: Sirimongkhon-Dyck, Katie Kimbrough, Kate McCurdy and Caldwell finished third in the 200 medley relay; Sirimongkhon-Dyck was fourth in both the 200 IM and 100 back; McCurdy took fifth in 100 fly; Anderson was third in 100 back; and Anderson, Kimbrough, Alexa Malik and Morgan Miller were fourth in the 200 free relay.
LHS, meanwhile, secured three more spots in the championships. Frick took third in the 100 fly and 100 breast, and she teamed with Odrowski, Rohn and Cistola to finish second in the 400 free relay.
The Firebirds reached the consolation finals with Miller (200 free, 500 free), Kat LaFever (100 fly, 100 breast) and McCurdy (500 free).
The Lions' consolation finalists were Rohn (100 free), Sarah Smoot (100 free), Odrowski (500 free) and the 200 free relay team of Madison Ruder, MacKenzie Rhoades, Hannah Lee and Smoot.
Diving prelims begin at 8:30 a.m. today. Finals for swimming and diving start at 12:30 p.m.
Copyright 2018 The Lawrence Journal-World. All rights reserved. This material may not be published, broadcast, rewritten or redistributed. We strive to uphold our values for every story published.