Cook-off schedule
Saturday's schedule for the 14th annual Sertoma Club barbecue cook-off:
• 7 a.m. to 9 a.m.: Breakfast at the Wakarusa Fire Station, near 31st and Louisiana; $6 donation
• 11 a.m. to 2 p.m.: People's Choice award tasting, Broken Arrow Park. $6 donation for 24 samples; tasters then vote for their favorite
• 2:30 p.m.: Awards ceremony and raffle giveaway winner announced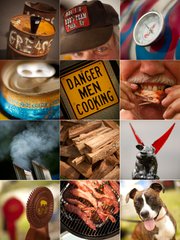 When barbecue is your craft, sometimes things get a little saucy.
Josh Burnett and Todd Kofford are Lawrence neighbors who, in 2009, decided to take their meats to the next level with regional cook-off championships.
"We decided to see if we could compete with the big dogs," Burnett said.
On the street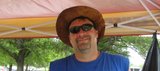 Preparation and time. Low and slow is best.
This weekend, they'll be putting their not-so-secret method — their mantra is "keep it low and slow" — to the test for a good cause. The team, with support from wives, friends and kids, is one of 48 competing in the 14th annual barbecue championship sanctioned by the Kansas City Barbeque Society and put on by the Lawrence Sertoma Club.
Organizer Dee Bisel proposed the event with the disclaimer to the Sertoma board (a group that's been around since 1929 and that stands for "Service to Mankind") that "we won't make money for the first two years." But, she said, she wanted a fundraiser that would be more fun — and rewarding — than selling light bulbs.
After nearly a decade and a half, Bisel said, they've managed to raise more than $180,000, all of which goes back to Lawrence charities. Their main benefactor is the Schiefelbusch Clinic at Kansas University, which provides a summer camp for children with communication difficulties.
The barbecue event, the grand champion of which will be eligible for the American Royal, also "doesn't just go after the people who always get hit up for fundraising — the golfers, runners, bikers," Bisel said. The "48" championship, named for its number of teams and $4,800 in prizes, has become a popular local event — "a truly town and gown event" — with KU students volunteering and community members showing up hungry to support Sertoma's charitable efforts.
As for the secrets to the perfect ribs or roast, participant Donna McClure said the "golden rule" is to "know your cooker." McClure, from Lenexa, knows her cooker well: She won the first Sertoma cook-off 14 years ago and has strong showings ever since.
"Every one has something special," she said of barbecue events. "This one's is that I started here when it was brand new and have been every year since."
For Burnett and Kofford, too, the event is tangy fun, with a side of competition and a heaping dollop of good will. They're serious competitors, having gotten a New Belgian brewery sponsorship and donations from Kroegers Country Meats. They're dedicated as well — they'll spend Friday night camped in the back of a truck, taking turns to get up and tend to their fires. Brisket is their baby, they joke.
Will they get to savor the sweet taste of success? Burnett said it doesn't matter: "It's just lots of fun, and we're hoping to have a good showing."
Kofford isn't so sure.
"I want to win," he said.
Copyright 2018 The Lawrence Journal-World. All rights reserved. This material may not be published, broadcast, rewritten or redistributed. We strive to uphold our values for every story published.