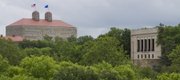 Subscribe to the email edition of Heard on the Hill and we'll deliver you the latest KU news and notes every weekday at noon.
Your daily dose of news, notes and links from around Kansas University.
• Kansas University didn't have to look far to find its new vice provost for student affairs.
Tammara Durham, who had been serving in the interim role since the post was created, recently was hired for the job, which includes serving as the university's senior student officer and overseeing student housing, student health services and recreation services, among others.
George McClellan, vice chancellor for student affairs at Indiana University-Purdue University at Fort Wayne, and Beth Hellwig, vice chancellor of student affairs and dean of students at the University of Wisconsin at Eau Claire, were the other two finalists.
Durham, who formerly led the University Advising Center, will make $145,000 per year in her new position.
• I also spotted this video that updates an ongoing project being done with the largest federal grant that KU has ever received, at $22 million.
And what can you do with all that money? In part, you can create a really, really big piece of paper that's 30 feet long and six feet wide that shows what you've been working on.
And in this case, the Center for Educational Testing and Evaluation in KU's School of Education has been trying to develop a big map of sorts that shows how high school students figure stuff out in math and language arts, including everything from how to form a triangle to how to understand the main idea in a passage, as I wrote about back in March.
The map shows all the various pathways students can take to learn the new skills.
The researchers are going through all that trouble to develop better tests for students with significant cognitive disabilities (though similar projects are going on in other parts of the country that develop tests for all students, too.)
• Here's a pretty good article from Inside Higher Ed that takes a look at the student debt issue and how it will be playing a larger-than-usual role in the upcoming presidential campaign.
That article says the total amount of student debt in this country is now believed to be more than $1 trillion, and the number has surpassed what the country owes on credit cards.
"Now, the Obama campaign appears poised to elevate college issues — beginning with student debt — to a status rarely, if ever, seen in American politics," the article says.
The article is a pretty decent look at the subject and worth a read.
• The only debt you have to pay to enjoy Heard on the Hill is to send me a tip once and a while at ahyland@ljworld.com.
Copyright 2018 The Lawrence Journal-World. All rights reserved. This material may not be published, broadcast, rewritten or redistributed. We strive to uphold our values for every story published.