Beating the unbeaten is no easy task.
Free State High's girls soccer team didn't have the offensive juice Tuesday night to thwart the No. 1 team in the state, Olathe East. Hawks senior Kirstyn Corder put up a hat trick, and O-East's spotless record remained intact with a 5-0 shutout at FSHS.
Photo Gallery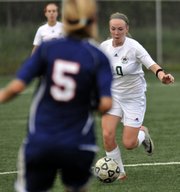 Free State soccer vs. Olathe East
Though Free State has never defeated the Hawks (13-0) and lost to them 7-0 last season, as the No. 10 team in the Kansas Soccer Coaches Association's All-Class rankings, the Firebirds (9-2-2) hoped this could be the year.
FSHS senior Kylee Loneker said she and her teammates knew O-East could be their most difficult opponent of the season.
"For how much we've progressed and how much we've come together as a team and how great we've become," Loneker said, "we definitely felt we could give them a run for their money."
The showdown between two of the best teams in the Sunflower League remained scoreless until Corder scored her first goal nearly 30 minutes into the first half. A few minutes later, Lauren Zach netted another Hawks goal, and Free State trailed, 2-0, at halftime.
Firebirds coach Kelly Barah said his team played solid soccer in the first half, but falling behind early proved costly.
"It really was a better match-up than the score showed," Barah said of the first 40 minutes.
Even though the Firebirds thought they were able to out-possess O-East most of the opening half, Loneker said the Hawks were so great that one bad touch or slip-up by FSHS could be just the break O-East wanted.
"They really pounce on your bad mistakes," she said.
Making matters worse for the home team, Barah said, was an offensive drop-off in a crucial area.
"Going into the second half, we just couldn't connect passes like we're used to," the coach said.
The margin remained two goals until the 15th minute of the second half, when Corder came flying in from the right side and kicked in a header from Brooke Douglas.
Corder scored her third goal on a rebound in front of the net with less that 13 minutes left on the clock. Just more than five minutes later, Haley Hanson dribbled in from the left side and scored O-East's fifth goal from roughly 20 yards out.
That final score, FSHS junior Margaux Gill said, sealed the Firebirds' fate.
"I thought for the most part we kept with it until that last goal," Gill said. "That's when we lost all hope, pretty much."
Because the Hawks were able to strike first, Barah said, Free State adjusted its defense.
But O-East didn't let the strategy slow it down.
"They have athletes all over the park," Barah said, "so much so that if you do roll coverage to one side, they are good enough to find where the missing link is — they do a tremendous job of that."
The Hawks kept Free State defenders such as Rylee Feurst, Hadyn Hutchinson, Amber Hicks, Olivia Hodison and Regan Keasling busy with their assertive, skillful attacks, and Firebirds goalkeeper Elena Auer turned away four of the Hawks' second-half shots on goal.
"We knew it was going to be a tough game, but we wish we would've put on a better performance," Barah said. "We'll try to learn from this and get better."
Free State will play host to Lawrence at 6:30 p.m. Thursday.
Copyright 2018 The Lawrence Journal-World. All rights reserved. This material may not be published, broadcast, rewritten or redistributed. We strive to uphold our values for every story published.