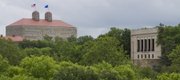 Subscribe to the email edition of Heard on the Hill and we'll deliver you the latest KU news and notes every weekday at noon.
Your daily dose of news, notes and links from around Kansas University.
• Some KU research got a nice write-up in Time this week, as the magazine took a look at work done by KU assistant professor of business Felix Meschke (and collaborators from the University of Minnesota).
The research posits that investing in companies that make large political donations may not be setting yourself up for big returns.
The research finds that for every $10,000 political donation from a company, the company's stock underperforms by 0.074 percent annually, the magazine reported.
Sussing out the reasons for that is a bit more difficult. The research showed that companies with high donation rates have more cash to spend on things, but lower rates of spending on research and development and higher rates of spending on acquisitions.
The magazine article has much more on the research itself.
• What do chemists and tuba players have in common? You might want to ask the person KU hires to fill a new position in the Office of Research and Graduate Studies called a "director of research development."
A little over a year ago, the Chronicle of Higher Education noted that more and more universities seemed to be hiring these kinds of folks, who help find ways to help faculty members do more interdisciplinary work. That's a slightly fancy way of saying the research would involve people from more than one academic field of study.
But "interdisciplinary" research is all the rage these days (those federal grant-giving agencies seem to love it, too). It's so popular that KU is hiring a new position at an advertised salary of $60,000 to $80,000 to help facilitate it.
• I've enjoyed following some of the recent reports that take a look at robot essay graders.
Apparently, they're already around — Educational Testing Services has used a computer "e-Rater" to grade essays on the GRE and the Collegiate Learning Assessment, according to this article from Inside Higher Ed.
The article mainly, however, focused on research from the University of Akron that showed essays graded by humans and essays graded by computers only varied slightly.
A New York Times article got a little sassier in how it broke that idea down, relying on Les Perleman, director of writing at the Massachusetts Institute of Technology, who has studied the algorithms behind the robo-graders.
Facts are a big issue. If you say the War of 1812 started in 1945, e-Rater doesn't terribly mind, the article said. Using big words helps, apparently.
"'Egregious' is better than 'bad,'" even if it makes things sound silly, Perleman told the Times.
I haven't yet heard of any e-graders making inroads into essay graders at KU, but it sure is an interesting trend to watch.
• I'm just glad they haven't found a way to have a robot write Heard on the Hill columns (yet). But if anyone ever asks you to send tips to heardbot@ljworld.com, you should definitely ignore them and keep sending them to me at ahyland@ljworld.com.
Copyright 2018 The Lawrence Journal-World. All rights reserved. This material may not be published, broadcast, rewritten or redistributed. We strive to uphold our values for every story published.