Photo Gallery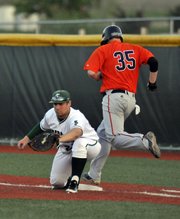 FSHS baseball vs. Olathe East
In search of anything to get the season going in its direction, victories keep evading Free State High's baseball team.
With its latest loss coming Thursday at home, 4-1, to Olathe East, FSHS dropped to 0-5.
The disappointing start hasn't sucked the life out of the players, though. Sophomore third baseman Cameron Pope said the Firebirds are determined to stay positive despite the slump, and he even pointed to another team from Lawrence that could provide some inspiration.
"The Jayhawks started off bad, and look where they're at right now," Pope said of Kansas University's men's basketball team, playing in the Final Four this weekend. "We hope to do the same thing they're doing."
While "bad" in KU basketball terms apparently means beginning the season 3-2, with losses to Kentucky and Duke, Free State senior first baseman Montana Samuels said he and his teammates are focusing on the good things they're doing each time they're competing on the diamond.
"I think we're making strides in the right direction," Samuels said following the loss to O-East. "It's always one or two big innings early in the game that we need to take care of, and once we eliminate that, I think we're getting a lot closer."
The two innings that proved to be the difference for the Hawks (2-1) were the second and third, against FSHS starting pitcher JD Prochaska. OEHS turned three hits and a hit batter into a pair of runs in the top of the second and plated two more the next inning with a two-run home run to left field by East senior Austin Sanders, who also pitched a complete game, allowing only five Free State hits.
Though the wind was blowing toward left field all evening, Samuels said Sanders' opposite-field shot didn't need any assistance.
"He got a pretty good piece of it, regardless," the FSHS senior said. "That home run was legit. I won't take anything away from him on that one."
At that point, down 4-0, the Firebirds hadn't even produced a hit. A double to the left-field gap from sophomore Ryan Cantrell and a base hit by sophomore Joe Dineen changed that in the bottom of the third, but it wasn't until two innings later that Free State finally crossed the plate.
Junior catcher Lee McMahon singled to lead off the bottom of the fifth, and courtesy runner Tristan Garber scored on a single to center by Pope, who went 2-for-3.
Firebirds coach Mike Hill said his team's biggest challenge right now is piecing together seven innings of sound baseball.
"There's facets of our game that are showing signs of improvement," Hill said, pointing to his team's defense against O-East.
Following the Hawks' hot start, the Firebirds infield made one error — in the fifth inning, as it tried to turn a double play — but it didn't cost FSHS a run.
Said Pope: "We've had some one- or zero-run innings toward the end of games, and that's been good. It's just the beginning of the game where we give up the big ones."
Prochaska, who took the loss, and relievers Jacob Caldwell and Sam Hearnen held O-East scoreless the final four innings. Hearnen struck out two while facing just five batters.
Hill has been impressed with how the team hasn't abandoned hope, in spite of its struggles to get in the win column.
"It's not easy to go to the park and get beat, especially when you're in a program that's so used to winning," the 15th-year FSHS coach said. "It's a little shock to the culture, so to speak."
The Firebirds' next chance to get on track comes at 5:30 p.m. Tuesday, with a home game against Shawnee Mission South.
Copyright 2018 The Lawrence Journal-World. All rights reserved. This material may not be published, broadcast, rewritten or redistributed. We strive to uphold our values for every story published.