Douglas County Sheriff's officers have cited a Berryton man whose vehicle hit a utility pole being transported on a semitrailer truck last Friday north of Lawrence.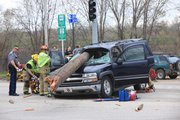 Investigators also determined the semitrailer's driver, a Holton man, properly used signs and flags for an oversized load and put a flashing light at the end of a 110-foot utility pole extending from the truck, according to the accident report released Thursday.
The crash occurred about 10 a.m. last Friday at the intersection of U.S. Highway 24-59 and U.S. Highway 24-40 — an intersection known as Tee Pee Junction.
A southbound Chevrolet Tahoe, driven by David Liby, 50, of Berryton, ran into the pole on the back of the truck, driven by Shannon Hogan, 38. Hogan was also southbound, and was turning left at the intersection so he could head east.
The pole pierced the windshield and exited the rear passenger window of the Tahoe, injuring Liby and his wife, Dawn Renee Liby, 48, also of Berryton. Both were treated at area hospitals. Their two teenage daughters, who were in the back of the vehicle, were not injured.
"The Tahoe turned with the semitrailer and pole until the pole snapped off, leaving the Tahoe in the intersection facing eastbound," Deputy Allen Kinsley wrote in his report.
Officers determined that Shannon — a driver for the Westar Energy contractor Koppers Inc. — was unable to use the left-turn lane due to the length of the truck and load, so he had no choice but to make the turn from the southbound inside lane of the highway. Liby, who had been driving behind the semitrailer since Topeka, attempted to pass the truck in the outside southbound lane, but because the vehicle made such a wide turn the Tahoe crashed into the utility pole.
Hogan was not injured.
"Due to the oversized load on the semitrailer, Mr. Liby could not pass safely and should not have attempted to do so," Kinsley wrote.
Officers determined Liby's inattention caused him to not consider the truck's speed and movement. They ticketed him for following another vehicle too closely and unsafe passing on the right.
Deputies discovered a flashing light that was attached to the pole before the crash at the scene. Lawrence police Officer Laurence Corder, who inspected the semitrailer, determined Hogan properly marked the vehicle to carry an oversized load.
The accident report listed different ages for David and Dawn Liby from those the sheriff's office had reported immediately after the crash.
Copyright 2018 The Lawrence Journal-World. All rights reserved. This material may not be published, broadcast, rewritten or redistributed. We strive to uphold our values for every story published.