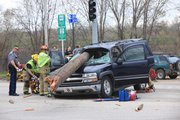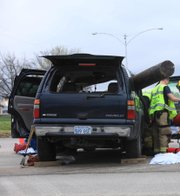 Two Berryton residents were injured Friday morning after an SUV they were traveling in crashed into a utility pole that was being hauled on a semitrailer just north of Lawrence.
Douglas County Sheriff's officials are investigating the accident in which the large utility pole broke through the windshield of the Chevrolet Tahoe near Tee Pee Junction, said Sgt. Steve Lewis, a sheriff's spokesman. The accident occurred about 10 a.m.
Lewis said the Tahoe ran into the 110-foot utility pole that was on the back of the Freightliner semitrailer, driven by Shannon Hogan, 38, of Holton.
Hogan was driving the truck for a Koppers Inc., a company that makes utility poles and had contracted with Westar Energy. He was headed south on U.S. Highway 24-59, or East 1450 Road, and attempting to turn left at the intersection to head east on U.S. Highway 24-40 or North 1800 Road. The Tahoe, driven by David Liby, 40, of Berryton, was traveling south behind the truck when it struck the pole. The intersection is commonly called Tee Pee Junction.
Lewis said the utility pole broke off from the trailer after it traveled through the Tahoe's windshield. According to a witness, the utility pole went into the windshield of the SUV and out the rear passenger side window.
Donna Liby, 39, the front-seat passenger in the Tahoe, was flown by helicopter ambulance to Kansas University Hospital in Kansas City, Kan., and David Liby was taken to Lawrence Memorial Hospital by ground ambulance, Lewis said. He was later treated and released, said Belinda Rehmer, an LMH spokeswoman. A KU Hospital official said information about Donna Liby's condition was not available Friday.
Two teenagers in the back seat, Sarah and Samantha Liby, were examined at the scene but not taken to the hospital, he said.
Lewis said investigators were attempting to interview David Liby, the Tahoe's driver. Because the semitrailer was an over-sized load, investigators were examining it as well.
"At this time it appears the vehicle was properly marked for an over-sized and extended load, but that is still under investigation," Lewis said.
Authorities re-opened traffic in the area at 11:45 a.m. Friday.
Chris Evans, a spokeswoman for Koppers Inc. in Pittsburgh, Pa., said company officials were waiting to hear more information from investigators.
"Our thoughts and prayers are with the people involved in this situation. It's horrible," she said. "We hope for a recovery. We're cooperating with the investigating authorities."
Copyright 2018 The Lawrence Journal-World. All rights reserved. This material may not be published, broadcast, rewritten or redistributed. We strive to uphold our values for every story published.