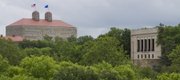 Subscribe to the email edition of Heard on the Hill and we'll deliver you the latest KU news and notes every weekday at noon.
Your daily dose of news, notes and links from around Kansas University.
• Yesterday, we delved a bit into the bonuses for Jayhawk head basketball coach Bill Self for his performance (I mentioned all the bonuses but one yesterday. Self gets $25,000 if he wins the Big 12 tournament).
Today, I noticed this post from the Washington Post's Campus Overload blog, which provides some context for those figures with other coaches around the country.
At KU, Self gets $100,000 for a Final Four appearance and another $200,000 for an NCAA title. Ohio's John Groce got $20,000 just for making the Sweet 16, and he would have earned $40,000 for a Final Four.
Kentucky's John Calipari has a much sweeter deal than Self, who only starts earning NCAA tournament bonuses at the Final Four level. Calipari, who makes $3.8 million per year, compared with Self's $3 million, also gets a lot more tournament bonuses.
The Sweet 16 gets Cal $100,000, and then another $100,000 for an Elite Eight, and then $150,000 for a Final Four. His haul if the Wildcats win the title? A cool $350,000.
However, Self's contract does have one special goodie, too, and that's one of those Lew Perkins-designed tax-free retention bonuses that's tacked on to Self's contract that he signed after winning the title in 2008.
If he's still coaching on March 31, 2013 (halfway through his 10-year contract), Self will be paid a tax-free $2.1 million — meaning Kansas Athletics will "gross up" the amount so it pays an amount in gross pay, which means Self will be able to walk away with $2.1 million cash in hand.
• If you're not watching any basketball this weekend, you might crack open a book by Anthony Trollope.
An anonymous fan of Trollope's decided not enough folks were doing that, apparently, and decided to put up some money for a contest, according to information a tipster sent me from the English department.
The Trollope Prize used to be housed at Harvard, but now it's at KU. It's awarded annually to the best undergraduate and graduate essays on Trollope's works. The top undergraduate essay gets $1,000 and the top graduate prize gets $2,000.
Also this year, KU will feature a lecture on Trollope, from Deborah Denenholz Morse, professor of English at William & Mary. She is scheduled to speak at 7:30 p.m. April 3 at the Hall Center for the Humanities.
So don't be shy, and go ahead and bust out your old copy of "The Way We Live Now."
• Also in yesterday's post, I mentioned the KU Debate team of brothers Sean and Patrick Kennedy, who advanced to a sort of Final Four of their own at the Cross Examination Debate Association's national tournament.
They lost a close round on a 2-1 decision to the University of Oklahoma, according to information at the Kansas Debate Facebook page.
It's a major tournament, and it is the weekend before the National Debate Tournament, which KU last won in 2009.
• I won't give you $2,000 to read Heard on the Hill, but I hope you'll try to make it better anyway by sending me a tip at ahyland@ljworld.com.
Copyright 2018 The Lawrence Journal-World. All rights reserved. This material may not be published, broadcast, rewritten or redistributed. We strive to uphold our values for every story published.