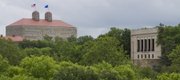 Subscribe to the email edition of Heard on the Hill and we'll deliver you the latest KU news and notes every weekday at noon.
Your daily dose of news, notes and links from around Kansas University.
• Fresh off a trip to St. Louis to take in some quite exciting Jayhawk basketball, I'm back at Heard on the Hill World Headquarters at Seventh and New Hampshire today, where I understand there was quite a celebration around these parts as well.
KU's basketball coach, Bill Self, is plenty excited these days as well. I'm sure that's mostly related to the team's surprising success, but his pocketbook isn't looking too shabby, either.
Self's contract, which guarantees him $3 million per year, is structured so that he earns some bonuses based on his and the team's performance.
He already has a few such bonuses in the bag this year — the Big 12 regular season conference title earned him $50,000. And when his team went on a 12-0 run to send North Carolina packing on Sunday, that Final Four berth earned Self another $100,000.
A few other bonuses might be in reach, too. I think Self has a good shot at winning The Associated Press' Coach of the Year award (if articles like this are to be believed, anyway). He won it once before, in 2009. It hasn't been announced this year yet, but if he wins, that would mean another $50,000 bonus.
And if this remarkable team can win two more games and take home the national title, that's another $200,000 bonus for Self.
And you know those are checks that Kansas Athletics (which pays Self's salary and bonuses using private funds) won't mind cutting one bit.
• Also getting into the March mood a bit is the KU Debate squad, which had a team in the quarterfinals of the Cross Examination Debate Association's national tournament, as I followed them on Kansas Debate's Facebook page.
The duo, brothers Sean and Patrick Kennedy, had just defeated UMKC to advance to the quarterfinals of the prestigious tournament.
I also enjoyed the posts showing photos of the various team members participating in the tournament, many of whom were sporting KU basketball jerseys throughout the weekend.
• If you're into politics, you can choose your own event next week, as both former UN Ambassador John Bolton and former Senate Majority Leader George Mitchell will be giving speeches at the same time on April 4.
The way I figure it, if you're a Republican, you might want to go see Bolton, who's talking at 7 p.m. at the Lied Center. He served under President George W. Bush.
And if you're a Democrat, you might want to hear what Mitchell has to say. The Democratic former Senate Majority Leader from Maine is speaking at 7:30 at the Dole Institute.
Or maybe you might want to cross the aisle and see what the other folks are thinking these days. People who don't affiliate with either party might have to do something crazy like flip a coin or something to determine where they want to go.
Strange, though, that they'll both be here at the same time.
• I am not speaking anywhere on April 4 (at least not yet), but you should still send me some tips for Heard on the Hill to ahyland@ljworld.com.
Copyright 2018 The Lawrence Journal-World. All rights reserved. This material may not be published, broadcast, rewritten or redistributed. We strive to uphold our values for every story published.