A vintage Phillips 66 sign tacked onto an aging milk barn and antique gasoline pumps scattered across the lawn are a clear indication that Jim Harris has an appreciation for the past.
The 74-year-old man has lived his whole life in the old white farmhouse that sits about a mile south of Eudora and a mile west of Hesper. A sign marks the property as Keystone Corner.
Long before it was called Keystone Corner and several decades before Harris' ancestors built the farmhouse, the intersection played a pivotal role in Douglas County's bloodiest day on record.
Next door to Harris is the former home of Capt. A. Jackson Jennings. His home was among those that William Quantrill visited on his ride to Lawrence in August 1863. As one story goes, Jennings' wife, Rosa, managed to convince Quantrill's men that her husband wasn't home. She then fled to the home of her neighbor, William Guest, and asked him to ride to Lawrence to warn of the coming raid.
Guest didn't believe her, but a black servant, Henry Thompson, did (accounts vary on whether Thompson was Guest's or Jennings' servant). Guest refused to lend Thompson a horse, so the young man ran by foot to sound the alarm.
As fate would have it, none of the men riding from Eudora was able to warn Lawrence in time.
Across the road from Jennings, Joseph Stone wasn't as fortunate. Historical accounts say he was either beaten to death by the butt of a musket or shot by Quantrill's men. A young German boy staying with the Stones, Jacob Rote, was forced to guide Quantrill's troops to Lawrence, where they ransacked the city and killed 143 men and boys.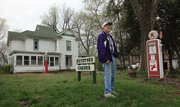 Public input sought
Two kickoff meetings will be held as part of the Douglas County Heritage Conservation Council's survey of natural, cultural and historic heritage sites. At 7 p.m. today, a meeting will be held at Hesper Friends Church, 2355 N. 1100 Road, which is southeast of Eudora. Another meeting will be at 7 p.m. April 2 at Kanwaka Township Hall, 776 U.S. Highway 40. The meetings will allow the public to ask questions about the process and provide a chance to suggest properties that should be surveyed.
Harris' great-grandfather, Thomas Harris, arrived in Lawrence a day after the raid, a fact that the Quaker preacher from Indiana notes in letters he wrote.

A few years later, Thomas Harris bought several farms in the area and sometime between 1880 and 1890 built the house at Keystone Corner.
Jim Harris said his ancestors never talked about the local connection to the deadly raid on Lawrence, so he doubt they knew one existed.
On a recent morning, Dale Nimz was jotting down notes as Harris shared his family's history and the stories that linked to Quantrill's Raid.
"I raised my family here, but it's just me now," Harris said of the family homestead. "I don't know what will happen to it when I'm gone."
Harris' home is one of 300 sites that Nimz anticipates will be surveyed in Eudora and Kanwaka townships as part of a $35,000 project. The work, funded as part of the $350,000 worth of grants given out by the Douglas County Heritage Conservation Council, is an attempt to create an inventory of sites that are naturally, culturally and historically significant in rural Douglas County.
The history surrounding the homes near Keystone Corner is an example of the kind of data the survey will document.
"We can overlook these buildings so easily and not value them, and then they disappear," said Nimz, who is leading the survey along with fellow historic preservation consultant Susan Ford.
The survey, authorized by the Douglas County Commission and expected to be completed by July 31, could be the first of many in the county.
Already, some history has been lost at Keystone Corner. There was once a two-story mill, Stone's home is long gone and a large barn at the Jennings property has been taken down. In fact, Harris said he has even had to be vigilant about protecting the name of Keystone Corner. Locals more recently have referred to it as Stinky Corner, because of the smell emitted by a nearby pig farm and feedlot.
And development from Eudora is creeping closer to Harris' home. Across the road are large new homes, and two schools, Eudora Middle School and Eudora High School, are just a mile north.

Nimz said the county specifically started the survey in the fastest-growing areas of the county to help ensure that historic properties don't get lost in development.
The survey will look at properties that are a least 50 years old and note the physical condition of the buildings, their historical significance and the architecture style.
Owners who have buildings on the list won't be under any obligation to do anything different. The information gathered about the properties can be used to help make recommendations on which buildings could be part of historic registers and which ones could be preserved through tax credits or grants.
"The hope is if we find interesting buildings, this will call attention to them and at least some of them will be preserved and incorporated into the landscape of the future," Nimz said. "Not everything we survey will be preserved."
Copyright 2018 The Lawrence Journal-World. All rights reserved. This material may not be published, broadcast, rewritten or redistributed. We strive to uphold our values for every story published.