Photo Gallery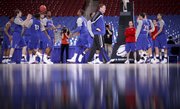 NCAA practices in St. Louis
St. Louis — The battle between North Carolina State big man C.J. Leslie and Kansas University power forward Thomas Robinson in tonight's Sweet 16 game at the Edward Jones Dome will be one of the most-watched individual duels of the tournament.
But a few inches lower and 15-20 feet farther away from the basket, there's another head-to-head match-up that could go a long way toward determining which team advances to the Elite Eight on Sunday.
KU senior Tyshawn Taylor, 6-foot-3, 185 pounds, and N.C. State sophomore Lorenzo Brown, 6-5, 186, play point guard for their respective teams. And it's each man's goal to make life miserable for the other.
"I think that's gonna be a huge match-up," KU senior Conner Teahan said. "If you can take a point guard out of a game, you take a team out of a game really quick, and that's something we put a lot of emphasis on. Tyshawn, when he's locked in defensively, can do that."
Throughout most of the season, Taylor and Brown have used their height and length as an advantage against the multitude of smaller — and sometimes quicker — guards that have dug in across from them. Staring into a mirror of sorts figures to be different for both.
"I've been playing against guards that are all smaller than me this year," Taylor said. "So that's gonna be something that's new for me personally."
While neither player is a completely refined point guard, both are the catalysts that make their teams go. Brown enters the game averaging 12.8 points, 6.4 assists and 4.5 rebounds per game. It's his size that allows him to contribute in so many areas, something Taylor (16.9, 4.7, 1.9) knows all about.
"I mean, he's 6-5, and he plays point guard," N.C. State junior Richard Howell said of his teammate. "I feel like that's one of the biggest strengths in the world."
It was not always that way for Brown. A season ago, during the Wolfpack's largely disappointing 15-16 season, Brown played shooting guard. It was a struggle. In 26 starts, he shot just 41 percent, averaged 9 points per game and seemed to play a role that teammates described as "out of place."
"I've always felt like he was a point guard," said 6-5 C.J. Williams, Brown's backcourt-mate. "I've known Lorenzo since high school, and he always played point guard, he just hit a growth spurt so people tried to slide him over. But I feel like he's a better point guard than he is a two guard."
That certainly has shown this postseason, as Brown averaged 15 points and eight assists during his team's upset victories over No. 6 seed San Diego State and No. 3 seed Georgetown last week in Columbus, Ohio.
With second-seeded Kansas (29-6) standing in his way of the Midwest regional final, Brown knows he needs to continue his steady play if the Wolfpack (24-12) hope to pull off another upset.
"I guess me and Tyshawn's roles are controlling the teams," Brown said. "It's going to be a great challenge, but just having a team like this supporting me will help me out a lot."
As far as his teammates are concerned, Brown's the guy they want leading them.
"I've been around Lorenzo Brown almost all my life, and I've never, ever, seen pressure get to him," Howell said. "He's one of the calmest, most laid-back, coolest dudes I know. Pressure is just another word to him. It's a great match-up. That's two of the country's best guards going at it, and it's definitely going to be a hard-fought battle."
Copyright 2018 The Lawrence Journal-World. All rights reserved. This material may not be published, broadcast, rewritten or redistributed. We strive to uphold our values for every story published.