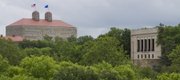 Subscribe to the email edition of Heard on the Hill and we'll deliver you the latest KU news and notes every weekday at noon.
Your daily dose of news, notes and links from around Kansas University.
• Chip Taylor, KU's monarch butterfly guru, has been pretty good about tracking the monarch butterfly population over the past few years.
Taylor, on his Monarch Watch blog, posted about the status of this year's population at the butterflies' overwintering site in Mexico.
The butterflies covered 2.89 hectares of forest area, which Taylor said was good news and bad news.
"The good news is that the population was larger, by almost a hectare, than I expected," Taylor wrote. "The bad news is that this number represents the 4th lowest total for the monarch colonies recorded since the winter of 1994-1995."
The figures were delayed by about a month or two from their normal reporting period, Taylor said.
Taylor has led several campaigns to help preserve the butterflies' annual migration.
• People in three KU buildings are competing to see which of them can conserve the most energy: Green Hall, Bailey Hall and Summerfield Hall.
So far, Green Hall is leading the way, with a 13.5 percent reduction in energy in February compared with the same month of the previous year.
Bailey (8.7 percent) is in second and Summerfield (6.8 percent) is in third.
This is one of the energy-saving initiatives identified in an energy audit with Energy Solutions Professionals of Overland Park.
The idea here is that people sign a pledge and then make energy-saving behavioral changes, like turning lights out and turning off electronics. The building that makes the most changes then has prizes for its pledges (the big prize is a barbecue lunch).
About 140 people have signed the pledge, according to KU.
The contest among the buildings runs through April 26.
• I'm a little behind on passing this on, but with this being the last Heard on the Hill post until next week, I figured I'd share this to get folks in the basketball mood (not that people need encouraging).
This article, courtesy of the Grantland website (owned by ESPN), features a lot of good information about James Naismith and Bill Self, and it's a pretty good read (even though it's written by a writer who works for "another newspaper," as they say).
Not to ruin the reading, but here's one detail I found interesting. If David Booth hadn't won the recent auction for James Naismith's rules of basketball, the person who was next in line intended to send them — of all places — to Duke.
The horror.
• I'll be in St. Louis watching some basketball this weekend, but don't let that distract you from sending those tips for Heard on the Hill to ahyland@ljworld.com.
Copyright 2018 The Lawrence Journal-World. All rights reserved. This material may not be published, broadcast, rewritten or redistributed. We strive to uphold our values for every story published.